Harry's Berries, OXNARD, CA
The Sweetest Strawberries
About Harry's Berries
Harry's Berries strawberry season will start back up in April, and last until August.
Harry's Berries is a certified organic family farm located in Oxnard, California. The Gean family is dedicated to growing ordinary foods with extraordinary flavor. Established in 1967 by Harry Iwamoto, it is now operated by Harry's daughter and son-in-law, Molly and Rick Gean. All of their adult children are also actively involved in running the farm. They grow unusual, specialty varieties of strawberries such as seascape and luscious chandler. Harry's Berries are considered local favorites at certified farmers' markets such as the Santa Monica farmer's market pictured below.
Harry's Berries go from harvest to Baldor in less than 24 hours, three times a week. They arrive deliciously ripe, so enjoy them quickly.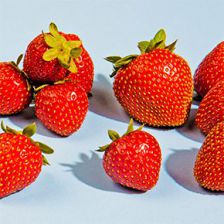 We are dedicated to growing ordinary foods with extraordinary flavor. We are committed to bringing our customers the very best quality farm products that Mother Nature allows us to grow.

Harry's Berries
IN SEASON NOW
From Harry's Berries
EXPLORE THE WORLD OF BALDOR