Wenzel Sauce, NEW YORK, NY
MAKE EVERY MEAL LEGENDARY!
About Wenzel Sauce
All-Star lacrosse goalie and fullback for the Yale Bulldogs, Eric Wenzel knew about late night eats with his fraternity brothers in New Haven, so much so that Alpha Delta Pizza named a sandwich after him and the legend was born. Students today insist that late night snack time is "Wenzel O'Clock!" Now the legendary man is bottling his signature sauce that makes the sandwich so coveted. Use it to make a spicy and delicious Wenzel Sandwich anytime, anywhere. It is also great on pizza, wings, burgers and anything that you want to make legendary!

Wenzel Sauce is a spicy & tangy hot sauce with a savory butter undertone making it unique from the rest and your new mealtime and tailgating sidekick. Aged red peppers, creamy butter flavoring and the perfect mix of spices creates a special sauce you can't live without.

When you purchase Wenzel Sauce you are supporting the Bulldogs Care Foundation - a foundation that honors Eric's four fallen teammates and seeks to support disadvantaged youth as they pursue personal development through programs in athletics, education and mentoring.

WHEN YOU BUY WENZEL SAUCE YOU ARE SUPPORTING SMALL & LOCAL BUSINESS!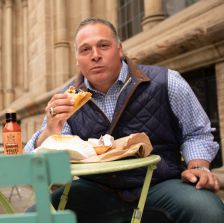 "This is a special sauce that your customers will crave. I created it to perfectly coat all foods with spicy and delicious flavor. It's Officially "Wenzel O'Clock!" Time to get SAUCED!!!"

ERIC WENZEL
In Season Now
From Wenzel Sauce
EXPLORE THE WORLD OF BALDOR