S.Pellegrino, San Pellegrino Terme, Italy
Tastefully Italian
About S.Pellegrino
S.Pellegrino Sparkling Natural Mineral Water is a timeless icon of Italian style. With its gentle bubbles and fine mineral balance, it enhances any convivial fine food occasion and elevates any moment, unlocking a world of quality and taste. On every table, with every cuisine, with new friends or old… Wherever you find the star on the cap, you'll find a moment of great taste waiting to be enjoyed. Choosing S.Pellegrino Sparkling Natural Mineral Water guides you to unique taste experiences. An experience that begins with fine food and ventures far beyond. It's where passion for beauty, the pleasure of gathering together, and the attention for detail meet with a unique, innate, and natural flair.
For more information, please visit https://www.sanpellegrino.com/us/en.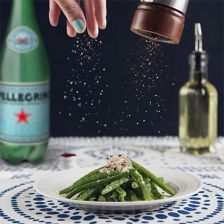 "S.Pellegrino's success is deeply rooted in its extraordinary heritage, value and iconic identity—all expressions of its unique Italian spirit. Ever since its foundation in 1899, S.Pellegrino has been a premium brand synonymous with style."

Sanpellegrino S.p.A.
In Season Now
From S.Pellegrino
EXPLORE THE WORLD OF BALDOR