Seedlip, New York, NY
Solving the dilemma of what to drink when you're not drinking.
About Seedlip
Seedlip is on a mission to change the way the world drinks with the highest quality non-alcoholic options, by solving the dilemma of what to drink when you're not drinking.
Our founder, Ben Branson, developed Seedlip from a frustration at the lack of premium, sophisticated alternatives to alcohol, and the sugary, sweet mocktail that was always presented. There began two meticulous years of perfecting the world's first non-alcoholic spirit–combining Ben's farming heritage, love of nature & design, and fulfilling the need for a sophisticated non-alcoholic option.
What began in a small kitchen in the English countryside is now leading a worldwide revolution–changing the way we drink. Seedlip has been embraced by the world's best bars, restaurants, hotels, and retailers across the globe.
Now in over 25 markets, Seedlip has truly embraced its vision of changing the way the world drinks. More recently we announced our partnership to 1% for the planet as we look to improve, develop and regenerate our impact on the planet and how we work within the Natural world. For every bottle sold, a minimum of 1% of sales will go to a chosen environmental partner.
All our ingredients are high quality, carefully sourced & uniquely combined. Our plants serve the palate w/ a unique & natural tasting flavor. Our ingredients give us the ability to not only serve delicious classic Non-alcoholic highball serves but also to create exceptional Non-alcoholic cocktails such as the NOgroni, Espresso MartiNO & CosNOpolitan.
Whether midweek, driving, relaxing at home, or just looking for something exceptional, Seedlip brings a perfectly balanced & refreshing experience to any occasion.
Seedlip has three unique expressions:
Seedlip Grove 42 – Citrus: Orange, Ginger, Lemongrass
Seedlip Spice 94 – Aromatic: Allspice, Cardamon, Grapefruit
Seedlip Garden 108 – Herbal: Peas, Rosemary, Mint
Seedlip HERO Serve: Ginger Highball
Ingredients
Seedlip: 2 oz
Premium Ginger Ale: Top
Glass & Garnish
Highball
Lime wedge
Method
Build over ice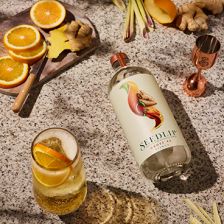 "Seedlip is undeniably the most recognized brand of nonalcoholic spirits. One of the first to market, founder Ben Branson released his first products in November of 2015 and it's been a hit ever since"

Taste of Home
In Season Now
From Seedlip
EXPLORE THE WORLD OF BALDOR