Monterey Bay Seaweed Company, Moss Landing, CA
Fresh. Raw. Alive.
About Monterey Bay Seaweed Company
Monterey Bay Seaweeds is the largest land-based seaweed farm in the continental United States and has been operating since 2013 to provide farm-fresh seaweeds directly to top chefs and restaurants nationwide. Founded by renowned seaweed biologist Dr. Michael Graham and his family, Monterey Bay Seaweeds has grown to become the most recognized brand for a diverse array of seaweeds farmed with scientifically-proven sustainable practices. The farm is located on the shore of Monterey Bay, California, and utilizes the pristine waters of the Monterey Bay National Marine Sanctuary to grow seaweeds with natural sunlight, zero fertilizer input, and zero freshwater input.

What makes Monterey Bay Seaweeds products special is that they are always shipped fresh to consumers. Unlike other seaweed products on the market, Monterey Bay Seaweeds dulse, sea lettuce, and nori are never dried, frozen, or blanched, which limits their culinary applications. As a result, the seaweeds taste as fresh as when picked directly from the ocean, resulting in a broad array of uses in the kitchen. All Monterey Bay Seaweeds are high in protein, yet low in carbohydrates and fats, and with high concentrations of B12, iodine, and glutamic acid, the seaweeds are nutrient- and umami-rich allowing them to be used in the center of the plate rather than simply as garnishes.

The seaweeds produced by Monterey Bay Seaweeds are the result of the most responsible, productive, and efficient farming practices developed by aquaculture scientists. At a time when US consumers increasingly look to the ocean for fresh, healthy, and sustainable seafood, Monterey Bay Seaweeds is increasing seaweed production to help meet the growing demand for plant-based protein in ways that benefit local ecosystems.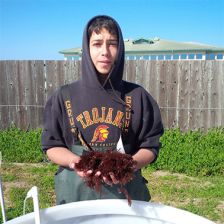 "Seaweed farming is the most sustainable form of seafood production on the planet. Its rewarding to enjoy a farmed seafood product that's mere existence is part of our solution to stemming global climate change."

Michael Graham
In Season Now
From Monterey Bay Seaweed Company
EXPLORE THE WORLD OF BALDOR