Miso Master, Asheville, NC
Miso Master Miso - Hand-crafted, Traditionally Made, Naturally Aged
About Miso Master
MISO MASTER Miso has been supplying Organic Miso for over 40 years to Fermentation and Natural Product enthusiast. We are proud to be one of the first organic miso makers in the US starting our project in 1979. Miso Master Miso is hand-crafted, traditionally made and naturally aged without fermentation accelerants to speed up the aging process. All grains and beans are sourced in the USA and Miso Master Miso is made in the foothills of Western North Carolina just outside of Asheville.

Miso Master Miso is Certified Organic, Non.GMO Verified, Gluten Free Certified, Kosher, and we are one of the first adopters of the Plastic Neutral Certification.
Miso Master Miso is Unpasteurized, Alive and Fermented.
Miso Master Miso is superior in quality due to our time honored methods of hand-crafting and slowly aging our misos, using the highest quality grains and beans we are able to source.
Processors, Manufacturers and Restaurants are tuning into the quality and availability of this fine Miso.

Miso Master Miso is made at The American Miso Company which was founded with the sole purpose of transferring traditional hand-crafted miso-making from Japan, where it was rapidly dying out, to America, where this essential ancient lore could be preserved. Forty three years of artisanal miso-making produces some of the finest miso in the world. We are now the largest US manufacturer of traditionally-made organic miso.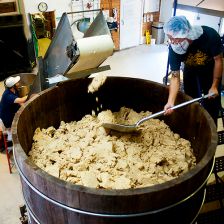 For more than 40 years, Miso Master Organic Miso has remained committed to the ideals with which we began; to provide the highest quality organic miso for the health of ourselves and our planet.

Leila Bakkum
EXPLORE THE WORLD OF BALDOR