Little Leaf Farms, Devens, MA
The local lettuce locals love.
About Little Leaf Farms
At Little Leaf Farms, we're committed to growing the freshest, cleanest, and best-tasting lettuce for salad lovers all year round. Based in Devens, MA, we're able to harvest and ship our lettuce throughout the East Coast within 24 hours, which means our greens stay fresh and crunchy in your fridge for two weeks or more.
Sustainability and food safety are built into every level of our 10-acre greenhouse. We grow our greens using state-of-the-art technology to harness natural resources like the sun and recycled rainwater, and we never use harmful chemicals, pesticides, or GMOs. Our automated system ensures that our lettuce never comes in contact with human hands and harmful pathogens, so our greens are always clean and safe to eat. You don't even need to wash them – just pop open the container and enjoy!
We're proud to bring you the freshest, most nutritious, and best-tasting baby greens on the shelves, straight from our family to yours. Visit littleleaffarms.com to learn more about our greenhouse and sustainable approach to growing.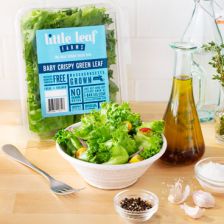 "

Little Leaf Farms is very proud to supply Baldor with our baby lettuce product. We grow the best tasting freshest lettuce year-round at our state of the art greenhouse and Baldor only sells the best products. A natural partnership!"

Paul Sellew, Owner
In Season Now
From Little Leaf Farms
EXPLORE THE WORLD OF BALDOR