Kelvin Slush Co., Brooklyn, NY
Award-Winning Premium Organic Slush Mixes
About Kelvin Slush Co.
Kelvin Slush is an organic frozen cocktail and slush mix company founded by two former NYC attorneys. Their "slushies for grown-ups" use only the highest quality ingredients and come in six sophisticated and unique flavors: Frosé (frozen rosé), Ginger, Margarita, Citrus and Tea. Chefs and bartenders can build on these base flavors with fruit purées, spirits and other mix-ins to produce refreshing, palate-zinging beverages or desserts.
All Kelvin products are USDA Organic, non-GMO, vegan, gluten-free, kosher and proudly made in the USA. Kelvin does not use any artificial flavors, ingredients, colors or preservatives and we do not use artificial sweeteners or high-fructose corn syrup. In fact, the only sweeteners they use in our slush are organic evaporated cane sugar and organic agave.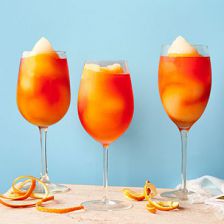 "My lips to God's ears, this is one of my must go to places. Cooling, refreshing, delicious…"

Andrew Zimmern
In Season Now
From Kelvin Slush Co.
EXPLORE THE WORLD OF BALDOR