Copra, New York, NY
Premium purveyors of organic coconut ingredients from Thailand.
About Copra
Copra is a vertically integrated manufacturer specializing in young coconut ingredients from Thailand, such as organic coconut water and raw coconut meat. As a Thai owned and operated social enterprise, we are committed to supplying only the highest quality, most authentic products. We take care to single source only the best tasting young Thai "nam hom" coconuts from small organic farms in Ratchaburi Province. They are cracked at our factory same day as harvest; the ingredients are then minimally processed and kept frozen until they reach the consumer to preserve maximum taste and nutrition. All of our products are 100% pure whole ingredients, with no preservatives, chemicals or added sugar.
Copra is the wholesale coconut supplier of choice for foodservice accounts across the country, who are our partners in supporting healthy lifestyles and consumer preferences shifting towards all natural, organic, plant-based, vegan, dairy-free, gluten-free, low sugar, kosher, non GMO and other specialty diets! Check out our Instagram @copra.co for inspiration on how to use our products.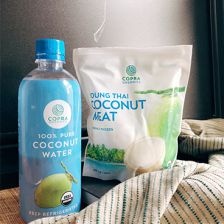 "Our customers love the pure taste of Copra Coconut Water. FreshDirect is proud to offer a brand that shares our passion for sustainable, flavorful food."

Marissa Dobbins, Dairy + Frozen Category Manager at FreshDirect
EXPLORE THE WORLD OF BALDOR