Armatore, Cetara
Sustainable fishing is possible
About Armatore
Armatore is a family business, we have been working in this field for over four generations now and we have been doing it together with an entire fishing village, monitoring the whole supply chain – from the catch to restaurants.
Armatore is a story coming from afar, which has been able to reinvent itself, so that its unique products would not stick to the past but, instead, could enrich our present and inspire our future.
Cetara is a small fishing village in the very heart of the Amalfi Coast. A masterwork to be discovered and preserved, where the past and the future meet a challenging present. In Cetara, people have always fished Bluefin Tuna and prepared Anchovy Sauce. But only Armatore created an Anchovy Sauce aged for two years in chestnut barrels and then preserved in Orcio (jars). This is a brand-new flavor to be interpreted in endless ways, which renovates, changes and projects into the future Cetara's thousand-year-old tradition.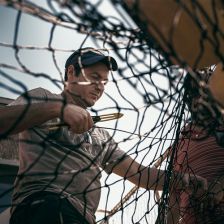 Sustainable fishing is possible.

The sea is our home. We know every single movement, nuance and sound of it. We know a huge variety of fish species and many kinds of vessels. We have tested hundreds of navigation routes and experienced endless ways to enjoy the sea.
However, we only know one way of fishing: the ethical and sustainable one. For everyone.
Sustainable fishing is the only possible answer to the challenges set by an increasingly uncertain context, because it undertakes to respect the health of the seas thus safeguarding habitats, biodiversity and the long-term vitality of species, while ensuring a source of income to coastal communities.

Luigi Della Monica, CEO of Armatore
EXPLORE THE WORLD OF BALDOR