Acqua Panna, Tuscany, Italy
An epic journey for a taste like no other.
About Acqua Panna
Established in 1564, Acqua Panna® Natural Spring Water is crafted by nature as it flows through the sun-drenched hills of Tuscany, north of Florence, Italy. The name Acqua Panna originates from the respected Villa Panna, an estate owned by the Medici family during the age of the Renaissance, on which the Acqua Panna source was discovered. The estate is still run according to strict rules, using controlled, certified organic farming on over 3,000 acres which includes a nature reserve. Acqua Panna natural spring water is perfected by its 14-year journey to the spring – it is filtered naturally as it flows, resulting in a special mineral balance that gives the water an unparalleled smooth taste and makes it naturally alkaline with pH of 8.0 or higher. For more information, visit www.acquapanna.com/us.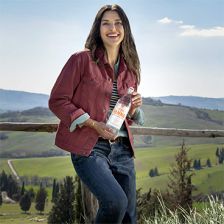 "We want to inspire consumers to experience a new journey of their own. We hope they will be as inspired as we are by the water's 14-year journey through the hills of Tuscany, which gives Acqua Panna the perfect mineral balance for the smoothest taste. We look forward to connecting with our consumers – and continuing to provide them with the highest quality and most coveted product on shelves worldwide."

Yumi Clevenger-Lee, VP & CMO of Nestle Waters North America.
In Season Now
From Acqua Panna
EXPLORE THE WORLD OF BALDOR