The Dirt on the Potato Shortage
We expect our kitchen workhorses--those items we use day in and day out--to always be there when we need them, so it can take us off guard when weather conditions decide otherwise. Earlier this year, we experienced this when onions were limited. The latest version of this is a shortage of Idaho potatoes expected in August and September. "Every year in the late summer, the supply of potatoes typically decreases, as the storage crop – which was harvested the previous fall – approaches its final stores and we wait for farmers to begin harvesting the new potato crop," says Baldor Supply Chain Planner and resident potato expert Teddy Ceaser. "However, this summer we're facing both an earlier-than-normal end to the storage crop and possible delays in the new crop"
So, what does that mean for the house-made French fries, potato salads, and potato chips you have on your summer menus? Our team is working around the clock to help ensure you have no gaps in your tater plans and have alternative spuds to see you through. Here's what you need to know:
The Root of the Potato Problem
Typically in the late summer, the supply of Idaho potatoes and chef-loved GPOD potatoes decreases as the storage crop–which was harvested the previous fall–approaches its final stores and we wait for farmers to begin harvesting the new crop. In recent years, farmers have worked to shorten this gap in supply over time with enhanced storage techniques. This year, however, unusual weather has led to the storage crop depleting more quickly than normal and the new harvest being slower to start.
First, let's talk about the storage crop. "Idaho potatoes and the chef-loved GPODs faced both high temperatures early in the 2021 growing season and smoke damage later in the season, which yielded fewer potatoes than expected," says Teddy. "Additionally, some of the potatoes that did grow were facing quality issues." This resulted in a smaller-than-average storage crop, and although our farmer partners have worked hard to make the supply last as long as possible, the storage crop is expected to deplete before the new crop begins. Teddy, who's been part of the Baldor family for 15 years and buying potatoes for 8 of those, notes, "This year's Idaho season seems to be one of the shortest I've ever seen."
To make matters tougher, the new Idaho crop is also off to a rocky start. "Idaho experienced a chilly, wet spring this year, which may result in delays to the new crop harvest," says Teddy." With the storage crop depleting earlier and the new crop starting later, we'll be facing a temporary, but widely-felt Idaho potato shortage."
We're expecting both Idaho Russets and GPODs to be completely out of stock by the end of July. If all goes well, the new crop of Idaho Russets should begin to harvest a couple weeks later, arriving to us by the end of August. GPODs, however, will continue to gap through September, both as a result of the weather and previously planned equipment upgrades.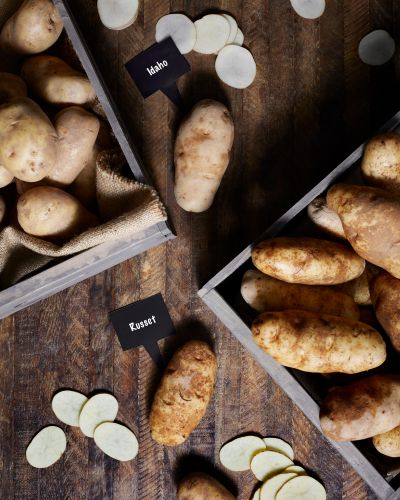 Navigating the Potato Shortage
While this situation is certainly less than ideal—especially at a time of year when potatoes are so prominent on menus—our team is hopeful and working diligently to support you amid the shortage. "We're continuing to monitor the situation along with our Idaho farmer partners, who are working tirelessly to see us through, while looking to source additional potatoes wherever possible," says Teddy. "In addition to getting direct commitments from Idaho, we're sourcing from market vendors in New York, Washington, D.C.,, Pennsylvania and Boston, as well as on-boarding new vendors from other regions – like Washington, Nebraska, Wisconsin, Maine, and Canada – and bringing in East Coast-grown Russet potatoes to help fill the gap."
Geographical flexibility will certainly help customers as they navigate the shortage in their own kitchens and businesses, and you may receive potatoes from different growing regions in the codes you're used to ordering. For customers who prefer the standard Idaho Russet – which are often of the Norkota variety –you should know that Russets from other regions share similar versatility and can even be more uniform in shape. However, if the GPOD-- – which is the Burbank variety of Russet – is your potato of choice, just note that Russets of other regions and varieties are often darker in color and may not bake as fluffy and light as the beloved GPODs.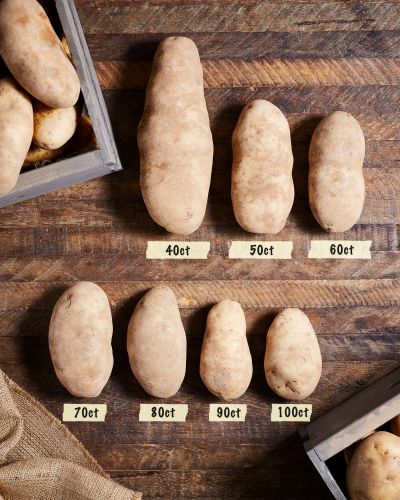 Teddy and the team are working hard to keep as many of our potato codes stocked as possible, however he notes that we may not have every size available every day, so the more size-flexible you can be, the better. We put a handy size chart together for you so you can visualize the various sizes and choose the codes that work best for your menu if your preferred size is unavailable.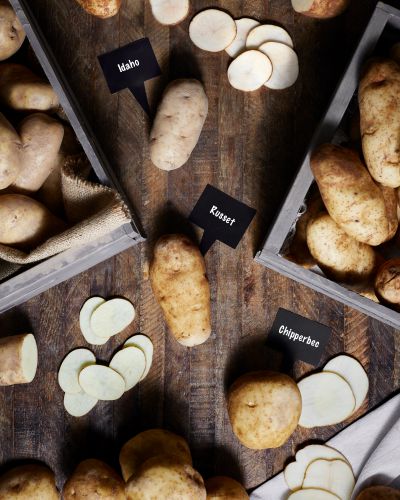 Russets aside, we've got a variety of other potato options you can explore including Yukons, Chipperbecs, and specialty potatoes – like the Norwis Frying Potato, which was bred specifically to retain less oil during cooking, as well as Delta Queen's potatoes in Extra-Fancy Red & Yellow codes.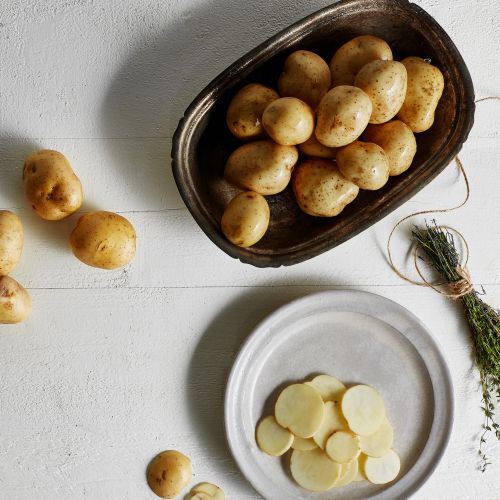 SPOTLIGHT ON: Norwis Signature Frying Potatoes from Green Thumb Farms
Local out of Maine and New Hampshire, third-generation Green Thumb Farms has been known for producing non-GMO Norwis potatoes since 1965. Thanks, in part, to the climate along the Saco River, where they are grown, this low-sugar, solids-heavy potato is excellent for frying and just as ideal for mashing.
No matter how you slice it, we'll be feeling this shortage for a bit, but there are silver linings worth looking toward. With alternate and specialty potato varieties in stock and incredible new potato farmers coming on-board, we're excited to connect you with even more amazing potato options for you to test and use in your recipes. Lastly, we're confident in our Idaho farmer partners: they've been working around the clock and doing everything they can to help get the new crop out as quickly as possible. With their hard work and dedication, we know we'll be back to enjoying our favorite Idaho spuds this fall.
Want to know more?
We're happy to help! Your sales rep can help find a solution that works best for you, so please feel free to contact us with any questions.