Vive Organic, Venice, CA
Sustainably Sourced Fresh Pressed Immunity.
About Vive Organic
Vive Organic is the pioneer in cold pressed and plant-powered 2oz ready-to-drink wellness shots made from organic and sustainably sourced superfoods. Known for delivering the first function-focused wellness shots on the market, the brand is on a mission to "spark the holistic wellness journey for all" and deliver the earth's most powerful ingredients to consumers seeking a fresh, convenient, and potent boost to their daily wellness routines. Every shot is crafted by a team of holistic doctors and innovation specialists, so that you know it's the perfect blend of fresh and concentrated ingredients, giving you the ultimate Fresh Pressed Immunity.

Vive Organic ingredients are always the highest quality and sourced from small organic farms focused on biodynamic & regenerative farming practices. Our turmeric root is sourced from Hawaii, ginger root from Peru, and Echinacea flower from Vermont - just to name a few. By using produce that is not perfect enough for a grocery store, Vive is able to make a significant environmental impact - saving millions of gallons of water, hundreds of thousands of pounds of food waste, while reducing C02 emissions. Every shot's ingredients are then cold pressed into 100% recycled rPET bottles and finished with a process called High Pressure Processing. This process allows Vive to keep shots super fresh and highly potent without pasteurization or preservatives.

USDA Organic, Dr. Crafted, Non-GMO, 100% Recycled Bottles, No Added Sugar, Gluten Free, Vegan, Kosher, Plant Powered - there's a whole lot in a little 2oz. shot!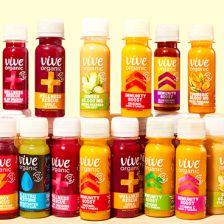 "At Vive Organic, we understand that it's not enough to make one big splash, but instead set in motion a continuous current. We believe a healthy lifestyle cannot be established overnight, so our intention is to help propel the shift to holistic wellness taking into account physical, mental, emotional, and spiritual well-being."

Co-founder, Wyatt Taubman
In Season Now
From Vive Organic
EXPLORE THE WORLD OF BALDOR