Saunderskill Farms, 5100 route 209, Accord, NY
We are out standing in our field.
About Saunderskill Farms
Saunderskill Farm has been owned and operated by the Schoonmaker Family since 1680 when our first ancestors came to the Rondout Valley. We feel there are three major factors that have enabled our farm to produce high quality fruits and vegetables for so long.

First and foremost is family. We are very fortunate that at least one member from every generation has had the desire and made the commitment to farm the land. Jack, a member of the 10th generation, at 89 is out every morning during harvest season at 6 am to help on the corn packing line. Currently Dan and Dave are operating the farm and recently Dans daughter Jennifer and her husband Ryan have joined the partnership.

Secondly are our employees. Without their help and commitment, we would be unable to provide the high-quality produce to our loyal customers. We have been working with men from the island of Puerto Rico since the early 1950s. Many have brought their sons and relatives and now we are working with a few of the 3rd generation.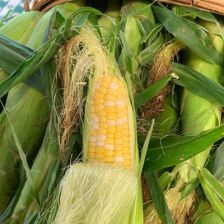 Our soils are some of the most fertile lands in the area and lay along the Rondout Creek. For over 300 years we have taken care of the soil and in return it has taken care of us. We use crop rotation, cover crops, soil tests, soil amendments, letting land lay fallow to give it a rest and reduced tillage to keep the soil healthy.

David Schoonmaker
In Season Now
From Saunderskill Farms
EXPLORE THE WORLD OF BALDOR