Salad Savoy, Salinas, CA
Home of color, taste, and nutrition.
About Salad Savoy
Salad Savoy Corporation is the brainchild of John Moore in 1983, following a trip to Sweden. While he was there, he visited a vegetable garden and was struck by what he saw, and tasted! Through detailed research and development, not only did he create an entirely new vegetable, trademarked under the name Salad Savoy, he named his entire company after it.From Sweden to Salinas, California, where it currently calls home, John knew Salad Savoy Corporation was going to be the next big thing. He was so confident in its success that he formed a family business around it. Salad Savoy officially entered the marketplace in 1984. Soon after, it was recognized by Venture magazine as one of the "100 Best New Ideas of the Year." Since launching, the Salad Savoy family has brought a number of unique vegetables to market, including:
Bright Lights Swiss Chard

®

Steamin' Greens

®

Red Ruby Swiss Chard™
Green Emerald Swiss Chard

®

Tasty Tuscany™
Carnival

®

Multi-Color Cauliflower
Lollipops®
These vegetables contribute to the company's "triad of success," which consists of color, taste, and nutrition.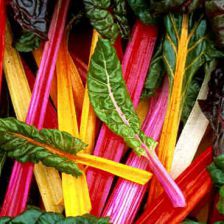 Everyone knows how important a balanced diet is and we are proud to help feed America with delicious and nutritious vegetables. We will continue to create new, exciting and colorific fresh vegetables for your enjoyment.

Marsha and John Moore, Owners
In Season Now
From Salad Savoy
EXPLORE THE WORLD OF BALDOR