Long Wind Farm, East Thetford, VT
The BEST tomatoes you can buy. They are local and amazing. And they are Real Organic!
About Long Wind Farm
Long Wind Farm is a pioneering organic farm that was started in 1984 on the banks of the Connecticut River in Thetford, Vermont. It began with a few young people and a team of oxen. Over the years the farm evolved into two and a half acres of glass greenhouses specializing in real organic tomatoes. We are famous across New England for the best-tasting tomatoes on the market. Everything we do makes the fantastic flavor rarely found outside of someone's home garden.
We started with poly greenhouses, but a trip many years ago to the best organic greenhouse production in Holland led to a shift to glass greenhouses. Underneath the glass was the same fertile soil that the fields had. The greenhouses enabled us to extend our season, but the farming within is still Real Organic.
Long Wind is uncompromising on deep organic farming. The fertility of the crop is based on the compost made on the farm every year. The long-season crop of tomatoes grows to an incredible 40 feet tall. The trellised plants are lowered every week. The insects are kept in balance with weekly releases of beneficial insects. The climate is carefully controlled to give the plants the best possible growing environment. Each plant is carefully tended by the committed team at Long Wind. Pruning, harvesting, lowering, and cluster pruning are done on a daily basis to keep the plants healthy and productive. You can taste the difference.
Long Wind co-owner and head grower Dave Chapman is also a founder of the Real Organic Project, a national coalition of farmers and eaters dedicated to saving traditional organic farming now being pushed aside by the USDA. Dave volunteers as the co-director of the Real Organic Project. Real Organic is based on soil-grown fruits and vegetables and pasture-raised livestock. Following the organic principles of soil health and animal health leads to the best-tasting food on the planet.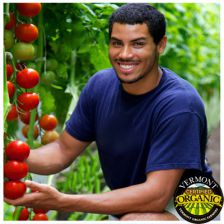 They don't just taste good. They taste great!

Dan Barber, Chef at Blue Hills at Stone Barn
In Season Now
From Long Wind Farm
EXPLORE THE WORLD OF BALDOR