Hitchcock Farms, Salinas, CA
Premium fresh produce is our passion.
About Hitchcock Farms
Headquartered in the heart of the Salinas Valley with the cool waters of the Monterey Bay as our backdrop, Hitchcock Farms is a leading supplier of premium fresh produce.

In 1989, the Hitchcock and Panziera families had a vision to grow and pack the highest quality vegetables for the produce industry. This vision was built upon a longstanding family farming history in the Salinas Valley, dating back to the late 1800's. Today, Hitchcock Farms has partnered with growers that carry that same vision and family heritage forward. Backed by over 150 years of combined family farming experience, Hitchcock Farms has grown into one of the leading grower/packers of fresh vegetables.

Hitchcock Farms is widely known for many industry firsts. In 1994, they were the first to introduce romaine hearts to the foodservice industry under their Garden Hearts® label. In 2002, they introduced their baby iceberg lettuce under their Iceberg Babies® brand, which became an instant hit. These innovative products garnered a stamp of approval from chefs and consumers throughout the United States and Canada. In recent years Hitchcock Farms has also grown their brussels sprout operation into one of the largest in North America.

We owe our success to our hard-working grower partners and dedicated team of employees. With their contributions, Hitchcock Farms continues to be a leading supplier of the highest quality produce in the industry.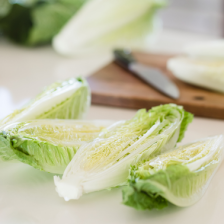 We strive to grow the highest quality vegetables harvested at the peak of freshness and flavor.

Jeff Hitchcock
In Season Now
From Hitchcock Farms
EXPLORE THE WORLD OF BALDOR