First Fruits, PRESCOTT, WA
Partner with FirstFruits. Make a Difference.
About First Fruits
FirstFruits Marketing is a collaborative apple marketing company owned by growers, Broetje and Congdon Orchards. These growers share a commitment to producing high quality fruit while balancing the demands of purpose, people, planet and profit so that a portion of profits can be donated to non-profit missions supporting the underserved.
As a recognized leader in the apple industry for over 25 years, Broetje Orchards is one of the largest privately owned apple orchards in the United States with more than 6,000 acres of apples and cherries. The company's acreage include approximately 5,000 contiguous acres near Prescott, 625 in Benton City and another 550 devoted to certified organic fruit production in Wallula, WA.
We offer purchasers well over 15 different varieties of apples and cherries with year-round availability for some. The company has more than 11 million square per feet of controlled atmosphere and cold storage space and two packing lines that have the capacity to pack an average of about 20,000 boxes of apples a day, a total of more than 5 million boxes a year. During peak fall harvest periods, 1,000 temporary workers join the company's 1,100 full-time, year-round employees.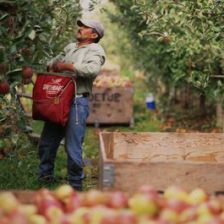 A quality fruit company committed to bearing fruit that will last.