Bernard Ranches, Riverside, CA
Sustainably Grown, Unwaxed Citrus from Riverside, CA.
About Bernard Ranches
Vince and Vicki Bernard began farming their land in 1979 and have been bringing their produce to market since 1980. Their land is farmed sustainably by relying on the use of beneficial insects, avoiding the use of synthetic pesticides or herbicides, and the use of drip irrigation systems. Their soil is fertilized with seaweed and urea and mushroom compost is added for an added hit of nitrogen compound – an element that fruit trees crave. The superior flavor and sweetness of Bernard Ranch citrus fruits is the combined result of ultra-rich, seaweed-packed soil, ideal terroir and hands-on farming. These people love what they do for a living.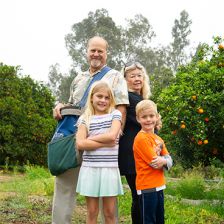 "Although citrus trees don't have four legs, they seem to require the same 24-hour attention that cows need."

Vince Bernard, Co-Owner
In Season Now
From Bernard Ranches
EXPLORE THE WORLD OF BALDOR