From the mind of James Beard Award winner Dan Pashman, creator and host of The Sporkful food podcast, comes CASCATELLI (Italian for waterfalls). Three years in the making, this brand new shape was created in collaboration with the artisans at Sfoglini. Cascatelli is designed to maximize the three qualities by which Dan believes all pasta shapes should be judged: Sauceability: How readily sauce adheres to the shape; Forkability: How easy it is to get the shape on your fork and keep it there; Toothsinkability: How satisfying it is to sink your teeth into it.
Product Details:

Size: 6 X 1 LB
Country of Origin:

United States of America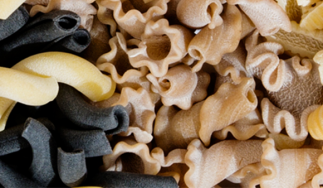 Sfoglini was born from the vision of Chef Steve Gonzalez who has been a part of some of the most formidable pasta programs in New York City: Insieme, Hearth, Roberta's, and Frankies Sputino, and former creative director Scott Ketchum who both talked for years about bringing a superior,...
Learn more about Sfoglini Pasta