Thanksgiving Farm, Sullivan County, NY
Hands-On Learning and Training in Action
About Thanksgiving Farm
Owned and operated by the Center for Discovery, Thanksgiving Farm is a working 300 acre farm and a nationally recognized residential and educational community for people of all ages with developmental disabilities. Located in Sullivan County, NY, the farm grows organic produce to feed its residents and staff, a direct result of the Center's core belief that challenged people in our society need diverse, nutritious food for their basic physical wellbeing. The farm has been certified organic and Demeter Biodynamic for over ten years, ensuring they are following the highest standards in terms of food quality and land stewardship.
At Thanksgiving Farm, students and residents participate in education and vocational training. The farm is utilized as a green classroom space, which helps students learn in a reduced stress environment. In the adult program, farm work is directed toward skill acquisition which can ultimately translate to vocational opportunities.
Thanksgiving Farm's porcelain garlic bulbs are large, bright white, crisp and very flavorful. Students at the farm are responsible for cutting the stems off the garlic, shaking the soil off the roots and loading the garlic into field bins for transportation to curing areas. After curing, they prepare it for storing in containers. The owners believe working in the fresh outdoors, alongside teams of experienced farmers, is a tonic for the mind and spirit.
We are happy to support Thanksgiving Farm by carrying various herbs, squashes and more depending on availability. We hope you will too.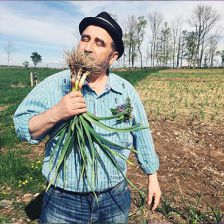 "New York chefs are already raving about this organic garlic."

Thanksgiving Farm Team