Also known as Tuscan kale or black kale (cavolo nero), Lacinato leaves look corrugated and tough, but they cook up soft and melting. Once you pull the leaves off their central stem, you can even slice them into ribbons and enjoy raw in salads. Nutrient-dense with a rich, forest-floor flavor, Lacinato tastes robust with a soft and juicy texture.
Product Details:

Size: 24 CT
Country of Origin:

United States of America local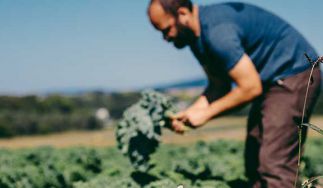 Lancaster Farm Fresh Cooperative (LFFC) is a non-profit organic farmer's cooperative of about 100 small scale farmers working 350 acres in Lancaster County, Pennsylvania. They focus on creating healthy, high quality foods from their strictly maintained and enriched soils on their family...
Learn more about Lancaster Farm Fresh