Medium sized east coast peaches from our neighbors at Fralinger Farm in Bridgeton, New Jersey. Like most peaches grown east of the Mississippi, these have an irregular shape with a deeper cleft along the pit than you see on California fruits. These are clingstone peaches that eat on the tart side, with a refeshing rather than ultra sweet juiciness - a peach profile many people prefer.
Product Details:

Size: 25 LB
Country of Origin:

United States of America local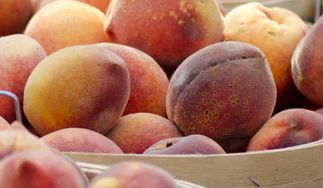 Fralinger Orchards is a fifth generation stone fruit grower operating in Bridgeton, N.J. since 1875. Bob Fralinger Jr. and his son Robert III are now at the helm along with his 18-year old son Andrew. After decades of growing a vast variety of produce they started concentrating on peaches and...
Learn more about Fralinger Orchards