More About This Product
Parm comes in all shapes and sizes, and we're not even considering the stuff in cans when we say this. But some Parmigiano Reggiano is exceptional: smaller producer, better milk, more conscientious cheesemaking. Giorgio and Gianluca Bonati run a small dairy farm in Parma with fewer than 100 cows. Depending on the yield of their herd, there is enough milk for about 4 wheels a day. Giorgio and Gianluca feed the cows a very special and specific diet consisting mostly of corn flakes, orzo, oats, dried fava beans and soy, providing a rich, flavorful supermilk that accentuates all the goodness of what Parm can be. And that is: a barrage of sweet, salt, spice, and nuttiness; that butter, that little crunch, that caramel finish. The white patches that are visible throughout the interior of the cheese are not salt, as one might expect, but are amino acids that cluster together during aging. They lend a distinctive crunch in the mouth. Like all Parmigiano Reggiano, this one is raw cow milk, and aged for 5 years. You never quite what you'll get until you whack the wheel open!
Product Details:

Size: LB
Country of Origin:

Italy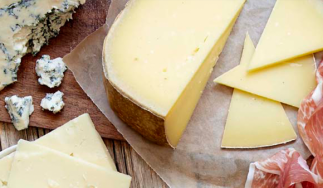 Founded in 1940 by Murray Greenberg, Murray's is proud to be a Greenwich Village-based business and part of the neighborhood's rich food history. The main thing that makes Murray's special is their passion for cheese. Rob Kaufelt bought the store in the early 90s and began...
Learn more about Murray's Cheese
back
MC6165
This product has a 5pm cut off time for the following day delivery. Orders between Friday at 5 PM through Monday at 5 PM will be delivered on Tuesday.
This item is sold to order by the LB. Each unit refers to an additional LB requested.