More About This Product
This variety has terrific flavor and a completely unique appearance that will make it stand out on a display. It is a flat, white peach with absolutely no red blush. The white skin matches the flesh. The pit is small so you have a greater flesh-to-peach ratio. This is the peach you want to slice and add to salads, to halve and grill, or eat out hand without getting messy. They dont drip, but that doesnt mean they arent juicy. The rich flesh is very, very dense, retaining all the juices within.
Product Details:

Size: 14 X 14 OZ
Country of Origin:

United States of America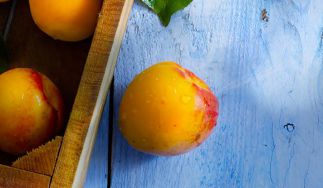 The Jackson family's California roots began just after the Great Depression in the mid-1930s when Herschel Jackson followed his brother from Tennessee to the fertile soil of California's central valley. He brought farmland there and started the family that runs Family Tree Farms to this...
Learn more about Family Tree Farms