Shanley Farms, Morro Bay, CA
Growing ecologically sound and truly unique produce products to delight and excite culinary adventurers.
About Shanley Farms
Shanley Farms is a California-based fruit company, run by father and daughter team Jim Shanley and Megan Warren, with the shared purpose of delighting and exciting food lovers and culinary adventurers with their truly unique produce products. In 1998 Jim retired from a career in commodities trading to begin farming as a way to build a family legacy tied to the land. Jim has always been the chef in the family. He enjoys creating meals with premium ingredients and flavors. One spring when it was time to replace an old orange orchard, Jim discovered finger limes for the first time. His love for cooking, and the variety of applications he saw for finger limes, inspired his immediate order of trees for his farm. In 2011 he hired on his daughter Megan to assist with the marketing and sales. Today, the farm produces avocados, lemons, finger limes, passion fruit, dragon fruit, goji berries, and specialty coffee varieties. Despite nearly a decade of turning the public into finger lime fanatics, Megan's 5 year old son James still holds the world record for finger lime consumption.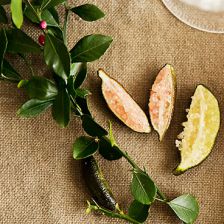 "People say there is nothing new under the sun. Follow me, you'll find something"

Owner, Jim Shanley
In Season Now
From Shanley Farms
EXPLORE THE WORLD OF BALDOR