Purple Pride, The Netherlands
Surprisingly Versatile Eggplants
About Purple Pride
Since 1996 is Purple Pride the supplier of the tastiest aubergines grown in the Netherlands. Rich in flavour and grown with a large dose of love, passion and care. With 40 hectares of growing area, divided over 5 cultivation sites, Purple Pride has grown to become the largest aubergine brand in North Western Europe over the last 20 years. In addition to the standard aubergine, Purple Pride also grows a wide range of specialty aubergines; all surprisingly versatile products, each with their own individual shape, colour and taste.
The Purple Pride story goes back to the '70s. This is when the families Van Duijn, De Jong and Groenewegen decided to dedicate themselves to vegetable growing. At that time, they did not just grow aubergines, but other vegetables as well. In the '80s, a new generation decided to focus on 100% aubergine cultivation. In 1996 Purple Pride was launched officially, when the three families Van Duijn brothers, Aubergine Farm De Jong and Greenbrothers decided to establish the Purple Pride Growers Association. By uniting together, more attention could be paid to the demand for quality.
Great passion for this product, for nature and for a refined flavour is what unites Purple Pride, together with their ambition to increase the consumption of aubergines. This includes everything from discovering new methods for cultivation through to classification management and concept development.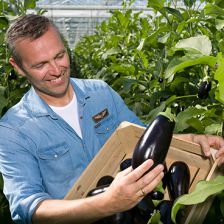 "The aubergine is a fruiting vegetable with an enormous potential. This makes it fantastic to grow. We still have a whole world to conquer".

Pleun Van Duijn, Grower
IN SEASON NOW
From Purple Pride
EXPLORE THE WORLD OF BALDOR