Purple Pride, The Netherlands
Surprisingly Versatile Eggplants
About Purple Pride
Purple Pride is known for its high quality eggplants and extensive range of special varieties. Purple Pride stands for quality, freshness and sustainability. Each and every day.
The eggplants are handpicked on a daily basis and grow in modern greenhouses in which the optimal climate is created for the eggplants in order to guarantee only the very best quality.
When it comes to sustainability Purple Pride is a frontrunner in the greenhouse horticulture sector. It invests heavily in renewable energy, uses water as sparingly as possible, its crop protection is almost exclusively organic and the business applies a minimal waste policy.
With a cultivation surface area of 40 hectares, spread across five new eco-conscious greenhouses in the Netherlands, Purple Pride has evolved to become the largest eggplant brand in North-western Europe over the last 20 years.
It all started in the 70s, when the Van Duijn, De Jong and Groenewegen families decided to concentrate on growing vegetables. At the time, they not only grew eggplants, but other crops as well. In the 80s, a new generation decided to focus 100% on eggplant cultivation. In 1996, Purple Pride was officially launched, when the three businesses the Van Duijn Brothers, Aubergine Farm De Jong and Greenbrothers decided to establish the Purple Pride Growers Association. Joining forces enabled them to focus more on the demand for quality.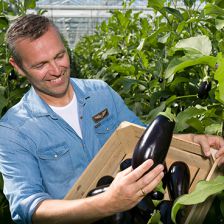 "The aubergine is a fruiting vegetable with an enormous potential. This makes it fantastic to grow. We still have a whole world to conquer".

Pleun Van Duijn, Grower
In Season Now
From Purple Pride
EXPLORE THE WORLD OF BALDOR