Mr. Bing, New York, NY
Mr Bing Chili Crisp: Packed with Flavor, Full of Crunch!
About Mr. Bing
Mr Bing Chili Crisp is more than a condiment, it's a kicked-up interpretation of a northern Chinese classic, straight from our Beijing street carts. We fused together four smoky and fruity peppers that add heat, but aren't burn-your-face-off spicy. Mushroom powder plus layers upon layers of garlic and onion give our crisp a Yummami savory deliciousness. That's why every jar is a perfect balance of sweetness, spice, umami, and of course CRUNCH!
Mild or spicy, try on eggs, rice, pizza, pasta, veggies, fish, meats, or mix with mayo, guac, or hummus. Use it in one of Jet Tila's recipes, or spice up your own creation!
Inspired by its heritage as a Beijing street food business, Mr. Bing Chili Crisp was created in 2013 as a star ingredient in our cult-favorite jianbing, the traditional breakfast crepe filled with egg, scallions, fried dough, and the spicy, umami kick of chili crisp. Beloved by fans of Northern Chinese food across Hong Kong and New York City, Mr. Bing was crowned "Rookie of the Year" for Best New Street Food in 2015.
In 2013, fans demanded it by itself, and Mr Bing Chili Crisp took the stage. While the restaurants closed during the pandemic, the story lives on in a jar. Today, Mr Bing chili crisp is available to lovers of strong flavors at over 2,500 stores and 100's of restaurants, colleges, office campuses, and stadiums nationwide.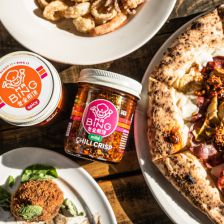 Mr Bing is the gold standard chili crisp for all your dishes. It's an easy and delicious way to add heat, savoriness and crunch to everything you cook.

Jet Tila, celebrity chef
EXPLORE THE WORLD OF BALDOR