Great Hill Blue, Marion, MA
Gourmet Non-Homogenized Raw Milk Blue Cheese
About Great Hill Blue
Using raw, non-homogenized milk from local farms, the cheesemakers from Great Hill Blue make their 6 pound tommes to yield a full flavored, smooth tasting blue. Located 50 miles south of Boston, on the shores of Buzzard's Bay, Great Hill Dairy in Marion has been known for its outstanding herd of Guernsey cows as well as its prize winning Acacia and Orchid collections.
Owner Tim Stone had been at the farm for years when it was simply a dairy farm. It wasn't until a year after he sold his cows, in 1996, that he began making cheese. He now sources his milk from nearby farmers using a mix of Jersey and Holstein.
Great Hill Blue is an internally ripened variety of blue cheese made in turn-of-the-century barns using raw, unhomogenized milk. The result is a complex tasting, salty blue with both acidic and buttery notes and an underlying toastiness. The rindless cheese has slightly more dense and yellow curd as no bleach or food colorings are added. It is also an American Cheese Society first place winner in the blue cheese category.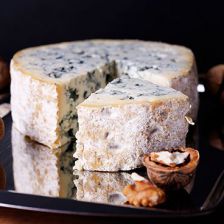 Unpasteurized, unhomogenized and, as an orange juice company put it, "simply unfooled around with". These phrases describe the ideals Great Hill Dairy employs when producing their lone cheese, Great Hill Blue.

The Kitchn
In Season Now
From Great Hill Blue
EXPLORE THE WORLD OF BALDOR