Ciruli Brothers, Rio Rico, AZ
Brothers Know How Things Grow
About Ciruli Brothers
Ciruli Brothers is a third-generation grower and shipper offering a wide variety of fresh, delicious produce for you to enjoy including various mango varieties such Haden, Tommy Atkins, Keitt, Kent and the naturally sweet Champagne® Mango.
Ciruli Brothers was founded on a passion for providing fresh fruits and vegetables that can feed their neighbors, near and far. Since 1940, that shared mission has inspired Ciruli Brothers attention to meeting each client's specific needs and the global growth that can deliver produce to the customers they serve.
Ciruli Brothers have been specializing in the sales and marketing of fresh mangos since the 1970s. Our know-how spans from a mango tree's early planting stages to the time the fruit reaches your customers' homes.
We work with a team of highly qualified people who specialize in every facet of the business, from growing to packing to shipping.
Today, that expansion of the Ciruli Brother's facilities and operations includes integrated supply chains with extensive distribution capabilities that begin with direct-grower sourcing in the U.S., Mexico, and beyond.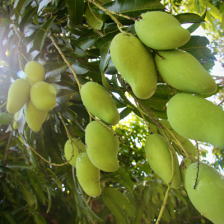 As brothers, we know a lot about how things grow. We're rooted in the same values we were raised by but continuously search for the unique paths that can bear their best fruits.

Chuck & Chris Ciruli