Beemster-Premium Dutch Cheese, Westbeemster, Netherlands
At Beemster, the best cheeses come from the best milk.
About Beemster-Premium Dutch Cheese
Beemster cheese is made by a cooperative of small family farms and master cheesemakers, founded in 1901. Beemster is the only closed-source, vertically integrated, traditional Dutch cheese in the United States. Their delicious cheeses are crafted with a commitment to humanely raising healthy, happy cows, supporting their farmers with living wages and on-going innovation, and sustainable production in the world's greenest dairy.
The Beemster Difference. Beemster has a unique terroir thanks to their location in the canal-lined Beemster Polder in North Holland. At 12-ft below sea level, the temperate maritime climate & dense, fertile clay soil, make the grass nutrient-rich therefore the cows' milk becomes creamier & sweeter.
In addition, the Beemster cows graze freely in the open pastures for as long as is safe and healthy for them. The cheesemakers must apprentice for years to learn the craft, including traditional recipes and techniques that pre-date the founding of the co-op. Cheeses are aged on wooden planks in historic, stone warehouses, hand polished, turned & tested by the cheesemakers. Beemster cheeses range in textures from soft & creamy to hard & crumbly, have a complex sweet-salty-nutty flavor and are endlessly versatile.
Happy Farmers, Happy Cows and a Happy Planet. Beemster prides themselves on a 360° approach to sustainability & harmony throughout their supply chain, which includes: sourcing from small family farms utilizing small manageable & healthy herds, humanely treating animals without using artificial hormones in feed or treatment, quality of life balance, living wages & on-going education for farmers. Beemster dignifies themselves as being the Greenest dairy in the world with a team dedicated to sustainability innovation & improvement.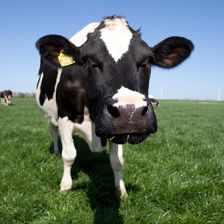 "Our mission is to make the most delicious cheese of exceptional quality… without any concessions or compromises. Everything we do, we take the harder route, the longer way, so that we do right by our farmers, our animals and our planet. And in the end, we have this cheese that people love, but also, they can feel good about."

Wim Betten, CEO
In Season Now
From Beemster Premium Dutch Cheese
EXPLORE THE WORLD OF BALDOR