16 Women Who Inspire Us Every Day
We never take for granted the incredible network of women we're lucky enough to learn from, be inspired by, and be cheered on by, day in and day out. These are women who make, farm, cook, run, and lead by example, by choosing to challenge the status quo and trailblazing change, in their methods, their practices, their reasons, and their can-do approaches. In honor of International Women's Day, we're spotlighting sixteen of these trailblazers – they're letting us in on what inspired them to start on their path, and what continues to inspire them, each day. Read on to learn their stories.
Victoria Blamey
Chef-in-Residence, Blue Hill at Stone Barns (April 14 - May 8)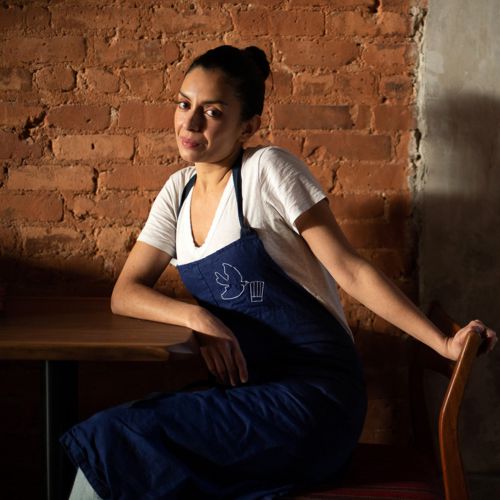 Tell us about yourself!
I've been in New York City for 11 years, but I grew up in Chile. I was always cooking as a kid, but I wanted to be an archeologist growing up. I went to school for two years to study history, before I took a gap year at 18 to study English in Cambridge, England. When I came back to Chile, I tried to decide what to do, and I did briefly consider going to cooking school, but I wasn't sure if I wanted to cook in a restaurant. I continued cooking for my mom as a hobby, and around 21, as I found myself cooking more and more. I decided I was going to switch careers. My mom was super supportive, and I promised her that would be my last job switch!
I went to culinary school for three years, and did externships in England. In my last externship, they offered me a job, and things got more real. I stayed in England for two and a half years before moving to Australia, and then to Spain. After living in Mexico for a nine-month gap, I moved to New York City. It's been 16 years since I left Chile.
New York City was the city that really embraced me the most, and it's the city I embraced the most. I love the connection I have here and the energy. It's hard to replicate elsewhere. In New York, I started at Corton, then opened Atera before returning to Corton as Chef de Cuisine. I spent time at Il Buco Alimentari - which was an incredible experience to see another side of cooking with a very different pace and skill -- before moving onto Upland with Justin [Smillie]. I then held my first Executive Chef position at Chumley's, then at Gotham Bar and Grill. You need to be adaptable, keep turning the page, and keep growing. I've had a different array of experiences, and I'm so grateful for all of them.
Lately I've been working on the Stone Barns residency [starting on April 14], and I'm so excited for the once-in-a-lifetime opportunity. Sometimes the fast pace of the city removes you from the essence of what we, as chefs, do, and it's great to reconnect with the farm and see how the team works.The concept for my residency is Chilean cuisine, drawing inspiration from the history, the indigenous people, the geography, and the evolution over time. I went to Chile for five weeks to do research, and toward the end of the trip, I really set out to find the origin of both Chilean cuisine and the origin of myself. did a lot of reading, met interesting people, and tried to understand how people cook, the traditions that have evolved, that was lost, and what remains. Trying to communicate all of that through a menu was a challenge. I also wanted to tap into people's emotions and feelings to understand and talk about climate change, what we can do, what the pioneers are doing, and how we can move forward.
After this residency, I'm switching gears to another residency in Greenpoint -- one of those passion projects -- from the end of May to the end of August. My personal life and work life are so intertwined, but since I've been back from Chile, I'm trying to connect with my friends, enjoying the energy of the city, and thinking about my next steps. I love working out and feeling connected to my body, and I can't wait to be able to travel and enjoy the cinema, museums, and galleries again!
Who are the women that inspire you the most? What have you learned from them?
Most of my life and to this day, my main inspiration has been my mom. We're very close,and I have a different understanding of what she was going through when she was 41 now that I'm 41. Looking back, I can't believe what she did -- she had me young at 21. She's been a huge source of inspiration and courage for me, and she's someone that keeps pushing forward with no question. I always think about her tenacity.
I'm also inspired by my friends, especially now during the pandemic as they juggle life, their kids, and work in the middle of the pandemic. I admire how women have so many layers and the energy to just do. I think we're the most incredible human beings on Earth!
What advice would you give your younger self?
I wish that sometimes I had the maturity to understand that I didn't need to compete with men. We do sometimes feel that we have to in work, as we don't get the same salaries, opportunities, and even criticism. Even though things have changed so much -- women can have bank accounts and vote and be independent -- but it's only recent! I wish I would've had more maturity to understand and not give myself such a hard time.
What song makes you feel like you can take on the world?
There's so many - I'm a big fan of music! But there's a song by Madonna, called "Jump". She says "I can make it on my own," and it's an interesting dichotomy, because, yes, you could, but, no, you really couldn't. Plus, I love the melody!
Lety Garcia
Supervisor, Garcia Organic Farm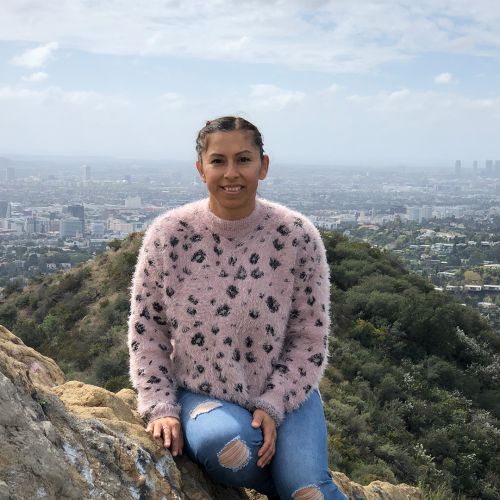 Tell us about yourself!
I had always wanted to be a nurse growing up, so I became a Licensed Vocational Nurse -- I still am to this day! I married into the Garcia family 16 years ago, and when I became pregnant with my firstborn, I stopped practicing nursing but started a new adventure -- accompanying my husband to the Santa Monica Farmer's Market. About 12 years ago, we went through a particularly rough freeze, so my husband started doing construction, while I took over the market. I grew to love it for the same reasons I love nursing -- it gives me the opportunity to connect with so many different people. Before COVID, I especially loved having visitors and giving tours! I have three daughters -- ages 13, 9, and 7 – who've started becoming interested in the farm and going to the market. As the kids get older, I've thought about getting back into nursing. I can't wait to see what the future holds!
Who are the women that inspire you the most? What have you learned from them?
My mom -- she's the most hard-working woman I know, and she emigrated here from Mexico. She'd always encourage me to say "Yes, I can!," work hard, and keep looking forward.
I'm also inspired by Jennifer Lopez. She speaks from her heart, and encourages people to follow their heart. I've adopted that saying as well. Love is an honest feeling!
What advice would you give your younger self?
Strive to the max and don't give up until you're there!
What song makes you feel like you can take on the world?
"Humbled and Kind" by Tim McGraw.
Denny Javier
Inside Sales Manager, Baldor Specialty Foods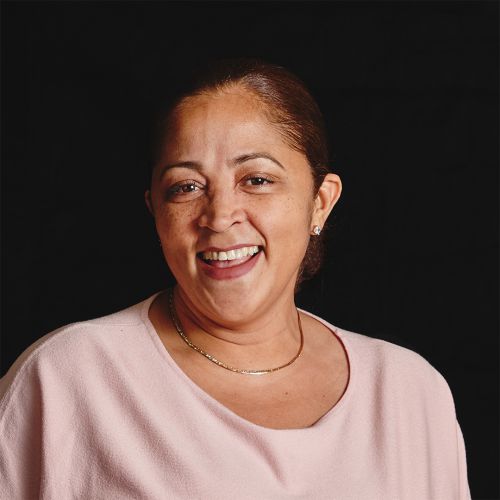 Tell us about yourself!
My name is Ms. Denny Javier. I was born and raised in the Dominican Republic, and I arrived in the USA at the age of 18 years old. I did not speak English at the time and had to finish High School, including 11th and 12th grades, without a working knowledge of English. You can imagine how difficult it was for me. I cried so many times doing homework and when I could not understand a word the teacher or students said to me. I remember a time when one of my teachers called my name and some students made fun of me because my name in English is a male name. I didn't give up, continued to do my best, and graduated with honors in 1992. I am grateful for my American education.
I continued my studies at the Bronx Community College, and I started a part-time job at a Supermarket working as a cashier. I used to take orders over the phone, write them down then shop for customers. Today, I can say this is where my career path started.
Some time back in 2000, I was at a family party, and my cousin's girlfriend spoke about Baldor and explained the business model to me. I started to look into this strange company, became intrigued, and wanted to find work there. A couple months later, because of my persistence, I was sitting at 511 Barry Street being interviewed by Mr. Michael Muzyk, who was the Sales Manager at the time. A month-plus and about ten phone calls later to Michael, I was hired to work as an order taker from 6:00pm-12:00am. I worked that shift for six months while I continued to go to college to complete my degree. It was not easy to keep up with my studies, a 2 years old son, and a 6:00pm-to-midnight job. I knew I had to move to the day shift as soon as possible. After six month of me not giving up, I was transferred to the day team. I worked with Jon Hansburg as his assistant for 11 ½ years. After those 11 years working with Jon, it was clear to me customer service was where I wanted to be. I was then promoted to Office Manager where I continue to give the best I can offer. A few years later I was promoted to Customer Care Manager which led me to now being Inside Sales Manager. I'm still not done. I will continue to give the best of me and welcome the opportunity to continue to grow in my career. I'm always willing to learn, pay it forward and look forward to the next task coming my way.
In my free time, I enjoy planting indoor plants, dancing, and playing chess -- I won a HS championship in 1989!
Who is the woman that inspires you the most?
My mom is my hero! My mom had to leave my two brothers, my sister and I (all under the age of 10) and her home in the Dominican Republic looking for a better future for us. She taught me that I can accomplish anything as long as I work hard for it. Nothing is easy (especially being a Latina), but persistence and hard work always wins.
What advice would you give your younger self?
Never give up, Denny! Look forward and never let anyone tell you that you CAN'T! Keep your head up and follow your dreams.
What song makes you feel like you can take on the world?
Streets of New York from Alicia Keys
Marygrace Sexton
Founder & CEO, Natalie's Orchid Island Juice Company
Tell us about yourself!
From the time I was a young girl, I have always been passionate about investing in people. So when I began to think about a career that would be fulfilling, I knew I would have to work for an organization that improved the lives of others. Little did I know at the time that the organization would turn out to be my own!
My husband Bobby Sexton, a fourth-generation Florida citrus grower, always dreamed of producing fresh-squeezed juice made from Florida's finest fruit but he was just too busy running the family's packing business. Surrounded by the bounty of my husband's groves, I made good on the idea that was first intended only to supply my own family with fresh, clean label juice, but soon blossomed into a family-operated, women-owned business that produces some of the finest juices on the market locally and globally. That was over 30 years ago now.
My mental, physical & spiritual health are very important to me. As a result, over the past few years I have been focusing on becoming a competitive road cyclist. I've done century rides (road cycling 100 miles or more) and I am planning to compete in races later this year.
Who is the woman that inspires you the most? What have you learned from them?
My mother is my biggest source of inspiration. Her work ethic and tenacity is ingrained in me – as is her empathy and willingness to help others. I was fortunate to have a woman like this in my life who guided me through both life's toughest and most joyous moments.
What advice would you give your younger self?
Like many young people, I was overzealous in my initial approach to my life and career. I was tough-minded, determined and passionate, always wanting to bring out the best in myself and others. As I grew in my career, I Iearned how to navigate and motivate others through a more individualized and strategic approach. There is tremendous value in the passionate and tenacious approach I took to life as it brought me to where I am today. It defines me and it defines our company. So I am not sure I would go back and change a thing actually!
Melissa Rodriguez
Executive Chef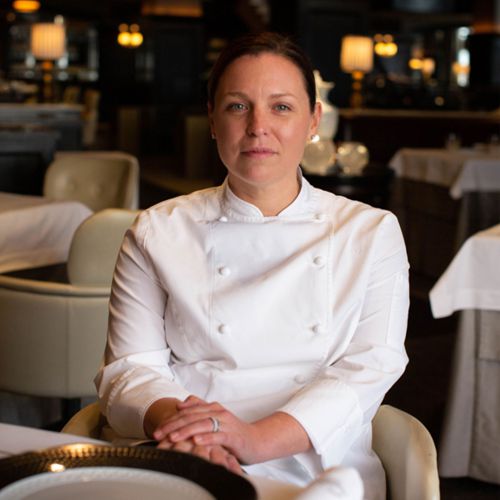 Tell us about yourself!
My name is Melissa Rodriguez, and I am a chef in NYC, most recently the executive chef at Del Posto. I began my career as a shy picky eater, which is also the reason I started cooking. At some point during my teenage years, cooking for my family became what I did to solve for my likes and dislikes. I had a friend who suggested I try working in a restaurant kitchen, so I did. I found that I really enjoyed the kitchen. In turn, that encouraged me to pursue cooking professionally. I'm not sure what I wanted to be when I grew up, a photographer or a writer, definitely something creative. But I liked cooking and all that came with it so that was what I did.
Cooking was not something I thought I would still be doing -- I thought I would pursue nutrition and wellness, but I was hooked. I love the energy of restaurant kitchens, I love the many different types of people you are surrounded by and I love having and working on a team. My hobbies and interests are a collection of things. I am very active, I love traveling, hiking, working out, yoga and being outside. I love to read and I adore word games and writing. I love music, and I collect vinyl records and I try to see as much live music as I can. I used to play the piano and I hope to be able to continue that hobby in the future.
Who are the women that inspire you the most? What have you learned from them?
I have many women in my life that are incredible whether it be women in my family or women that I work with and there are too many things I learn from each of them . I feel like this year has certainly presented itself with many inspirational women, Including Stacy Abrams, whose grassroots organization changed the trajectory of our country. She is an incredible example of hard work, and understanding that small victories soon add up to be great accomplishments.
What advice would you give your younger self?
I would tell myself to care for myself as much as I care for my work and those I work with. I was always a hard working individual and often did not prioritize my health or well being. As I have matured I've realized how important it is to set an example not only for those around you but for yourself as well. It took me a while to understand work and life balance.
What song makes you feel like you can take on the world?
Ahhhh that's like asking to choose your favorite child… There is so much music that I love and makes me feel great that choosing one song is impossible. But I'm pretty sure if I listened to any album from A Tribe Called Quest on a loop, I'd feel pretty good.
Jacki Blount
Senior Inside Sales Supervisor, Baldor Specialty Foods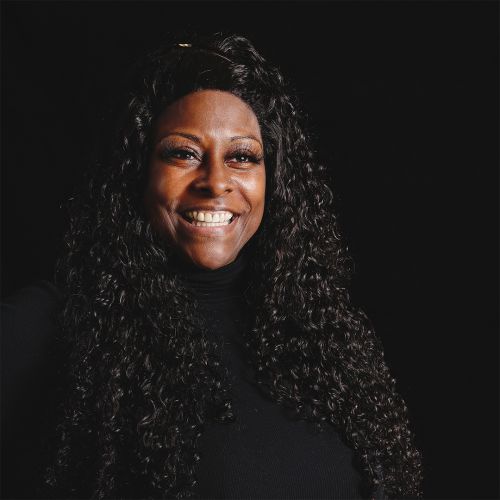 Tell us about yourself!
I started at Baldor in 1999. Prior to that, I had been working with a friend on Wall Street -- we had a program called the "Stock Market Game" where you could learn how the stock market worked. The dressing up every day wasn't me -- I'm a more casual person -- so I got a job with another food distributor as an order taker. I had heard about Baldor a long time before I applied in 1999, but I just didn't know how to get there.
As fate would have it, I lived in the same building on the same floor as Grandma [Sales Executive Elizabeth Dickens]. We'd leave for work at the same time and chat as we left for the day, and eventually we realized we both worked for food distributors. When I found out Grandma worked at Baldor, I told her that I had been wanting to work there, and she helped me fill out an application. I applied on June 22, 1999, and came for an interview the same day. I met with Michael Muzyk, and at the time, he said we didn't have any space -- our building in Queens at the time was too small -- but as soon as something opened up, he'd call me. I got a call in September and started on September 16. It took me three busses and two trains to get to work at the time! And I've been at Baldor ever since -- 22 years. (When I started, my sons were 10 and 7 and now they're 32 and 29!) Who knew that some conversation in an elevator would lead to here?
When I started with Baldor in 1999, we had 7 loading docks and 35 trucks. We've had four buildings total -- this is my third -- and our current building has 100 loading docks! When we were at 511 Barry Street, I thought there was no way we'd ever outgrow that building, but we did! I never would have imagined it would've taken off the way that it has, and I'm so proud to have been a part of that journey. Over the years, the best part of Baldor was Kevin [Murphy, our founder]. I wish everyone could have gotten the opportunity to meet him. He would've given you the shirt off his back -- that's the kind of man Kevin was.
I come into work with the same attitude every day: when I come in, I want to give 110%, 100% is not good enough for me. I try to learn something new every day, and I want to feel accomplished. But sometimes when I'm not feeling my best, I sit on the bench [near Kevin's memorial outside our building], and I hear Kevin say "Jacki-Poo, you got this!" He's probably one of the most influential people in my life, with Michael right behind. I really have the most amazing job in the world -- I wouldn't have been here 22 years if I didn't!
I have a grandson that will be three in April with another grandchild on the way, and I love to spend time with him. We're empty nesters now, and I've been loving being grandma!
Who is the woman that inspires you the most? What have you learned from them?
At Baldor, I'd say I've learned a lot from Elizabeth. We might not think so today, but this is a male-dominated field, and she's paved the way for a lot of us. There were only a handful of women when I started, and I've learned a lot about the business from her. By shadowing her and learning the business from her, I learned how to have longevity in the business -- and after 22 years, I think I can say I've learned a lot!
What advice would you give your younger self?
I would've advised myself to go further with my schooling, and go to college. I wanted to be a mortician or a medical examiner!
What song makes you feel like you can take on the world?
"Triumph" by Mariah Carey featuring Meek Mill. Every time I feel like I can't do something, I put that song on and it gives me the strength to tackle it!
Ola Creston
Co-Owner & Operator, Taproot Farm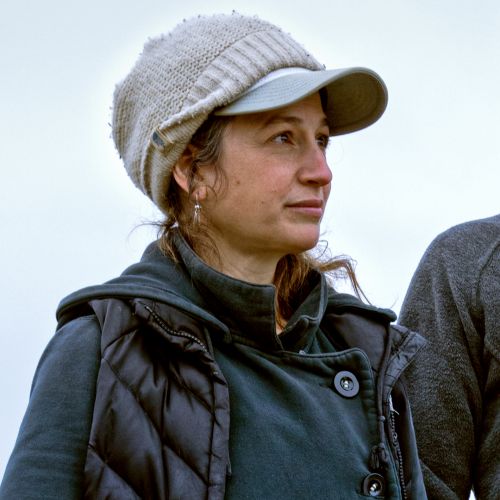 Tell us about yourself!
I grew up in NYC in the 80s and 90s. As a young girl I was surrounded by independent thinkers and artists. Both men and women who inspired a strong sense of will and adventure. I knew I wanted my life to be interesting and definitely a bit unconventional.
It was early on that I developed a love for travel. For new foods and beautiful artisans. To learn new languages and the cultures surrounding them.
In a way that was completely unexpected, these adventures led to my first extraordinary experiences in a rural landscape, connecting me to something that, as a native new yorker, I didn't even know was part of me. I developed a need to settle someplace and do something that required fresh air and an organic kind of grit. Something that involved creating with my hands, outdoor markets and vibrant color. Farming filled those needs and allowed me to work from the ground up, for myself and my family.
Who is the woman that inspires you the most? What have you learned from them?
These days I'm often inspired by my 2 daughters, ages 11 and 13. It's exciting to see how the next generation of women will forge their own paths.
What advice would you give your younger self?
Being a woman with a drive for independence, as well as an entrepreneur, farmer and mother, can feel like I'm often being pulled in opposite directions. This is my constant learning curve. I'm inspired by all women who are able to find the balance to pull off this lifestyle. I would tell my younger self that there are many horizons.
What song makes you feel like you can take on the world?
A song that lifts my heart & gives me strength is "Resilient" by Rising Appalachia.