Cardoons are a domestic variety of the wild thistle in the artichoke family. Dirt is mounded around the base as the plant grows to facilitate the blanching that turns it silvery green. This is one vegetable that tastes the exact opposite of the way it looks. Scaly, rough and fibrous when raw, Cardoon chunks melt into dense, meaty pieces with an artichoke-like flavor.
Europeans also cook cardoons into casseroles, au gratin or soups, but we like them deep fried to serve as an appetizer with drinks, or as a side dish. They turn out warm and crispy outside, creamy-soft inside.
For a delicious appetizer to serve with cocktails, we absolutely love cardoon dipped in a light beer or tempura batter and fried in canola or peanut oil. Cook until golden then drain well on paper toweling. Sprinkle with a good sea salt and serve with cold wine or champagne.
This original Baldor recipe was created specifically for the new-season cardoon grown by Ocean Mist Farms in central California. They have been cultivating cardoon for decades and are the largest, most reliable supplier in the country. Check out our recipe and prep instructions below!
FRIED CARDOONS
First, prep the cardoons: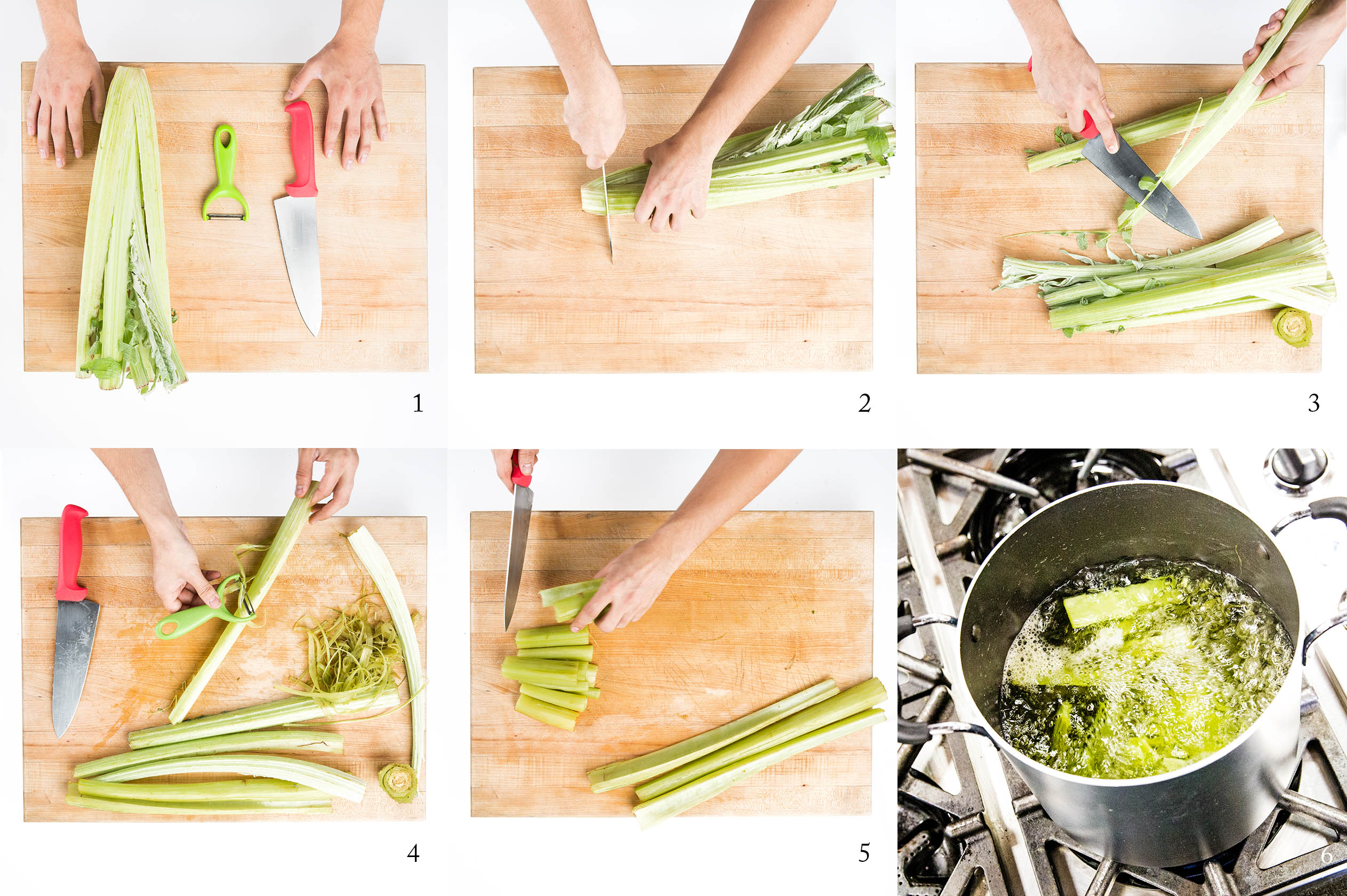 Separate stalks from the bunch, selecting the innermost, whitest ones. Cut off rough bottom and tops and slice sideways down the outside length of each to remove all the jagged, bitter-tasting leaves. Start peeling each stalk with a sharp knife to remove all stringy stands, just as you would with celery. (You can also slice off any small patches that look extra thick or discolored). Be sure to peel away as much of the fibers as possible. Cut each stalk crosswise into 1-2 inch chunks. Purist would drop the pieces into acidulate water to prevent browning, but we find it unnecessary if the cardoon is fresh. Boil the pieces in a large pot of salted water for about 20 minutes until they are soft and pliable (stick a fork through to test). Drain the pieces on several changes of paper toweling to dry as much as possible.
Prepare Beer Batter:
¾ cup unbleached white flour
¼ tsp kosher salt
1/8 tsp black pepper
2 eggs, room temperature
¾ cup Belgian beer (or any beer), at room temperature.
1 tbs vegetable oil
Put flour in a bowl, add salt and black pepper, and mix well.
In a separate bowl, whisk 2 room temperature eggs. Add ¾ cup Belgian beer (better if opened for a while and at room temp) and oil. Whisk to combine and pour into flour mixture, mixing well with a large fork until batter is somewhat smooth.
To Fry:
Heat cooking oil to 375 in a deep fryer or deep pot. Dip cardoon chunks in beer batter, letting excess drip off. Drop gently into oil and cook until light gold, about a minute. Don't overcrowd fryer. Lift pieces out with slotted spoon and drain on paper toweling. Sprinkle with good quality sea salt and eat immediately.
Alternatively, if you need to fry ahead of time, you can reheat cooked pieces on a hot baking pan and heat in 500 degree oven for about 5 minutes to crisp up. Keep sea salt grinder handy. The nutty sweet flavor of fried cardoons jumps to life under a fresh sprinkle of sea salt.