More About This Product
Citriburst Finger Limes are a unique citrus packed with juice filled pearls. When sliced open and squeezed, tiny pearls emerge that are ready to be used as a condiment or ingredient in as many ways as the mind can imagine. The pearls pop with a bright citrus flavor and are often used in place of lemons or limes, taking the ordinary to the extraordinary. Citriburst Finger limes are certified organic and grown by Shanley Farms in California.
Product Details:

Size: 5 OZ
Country of Origin:

United States of America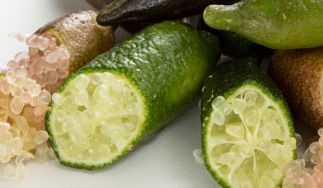 Shanley Farms is a California-based fruit company, run by father and daughter team Jim Shanley and Megan Warren, with the shared purpose of delighting and exciting food lovers and culinary adventurers with their truly unique produce products. In 1998 Jim retired from a career in commodities trading...
Learn more about Shanley Farms