These tubular black beauties are the newest creation from The Grapery in Bakersfield, CA. They are dramatic-looking to be sure but are more than merely stunning. Moon Drops are crisp and crunchy, sweet - but not too sweet - and seedless. Try cutting a slit into each one and stuffing a little blue cheese in there for a fabulous nibble with champagne.
Product Details:

Size: 19 LB
Country of Origin:

United States of America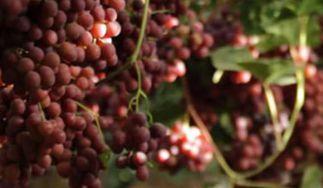 When Jack Pandol founded Grapery in 1996, he followed a family tradition of grape growing that spanned three generations. He had one goal: to produce the best tasting table grapes in the industry. By pioneering, adopting and refining various farming practices, Pandol passionately led his team...
Learn more about Grapery