Crescent Duck Farms are premium breeders of Genuine Long Island Ducklings, the highest quality duck for more discerning restaurants. Long Island has a proud reputation of producing the world's finest duck. Crescent Duck was started by Henry Corwin in 1908 in Aquebogue, Long Island, on land that has been in his family since the middle 1600's. Crescent Duck remains solely a family business worked and operated by Henry's grand and great-grandchilden. They take great pride in continuing this legacy.
Product Details:

Size: 6 PC X LB
Country of Origin:

United States of America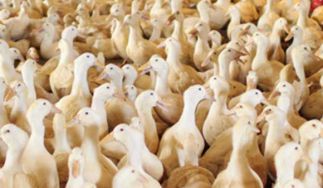 In 1908, Henry Corwin started his duck farm with 30 White Pekin ducks on 25 acres of land in Aquebogue, Long Island. Five generations, six times the property and 106 years later, Crescent Duck Farms is still producing the highest quality ducks for discerning "white tablecloth"...
Learn more about Crescent Duck Farm