Bread Alone's organic Sourdough Torpedo is a chewy and tangy bread made in the west coast tradition. This means that the loaf enjoys a long and cool overnight rest and has a very strong sour flavor, perhaps the strongest of all their breads. Made with organic whole wheat sourdough.
Product Details:

Size: 1 EA
Country of Origin:

United States of America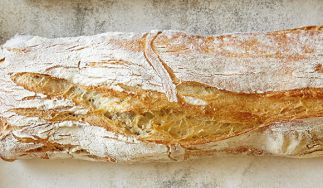 Bread Alone is a family-owned, values-driven bakery in upstate New York. We have been baking organic breads since 1983, and we continue to do so today. Our vision has not changed since the day that we opened: We strive to create delicious, honest breads and foods that we believe speak to the best...
Learn more about Bread Alone