Titan Farms, Ridge Spring, SC
Peaches Straight from South Carolina – The Tastier Peach State.
About Titan Farms
Founded in 1999 by Chalmers and Lori Anne Carr, Titan Farms is a premier grower, packer, and shipper of fresh peaches and vegetables. With core values focused on producing the highest quality produce in the market, you are sure to take home the freshest produce they have available. Today, Titan Farms is the largest peach grower on the east coast, with over 6,200 acres of peaches, 600 acres of bell peppers, 1,000 acres of broccoli, and 36 acres of eggplant. Titan Farms is a family-run operation, including long-time employees who have become part of their Titan family.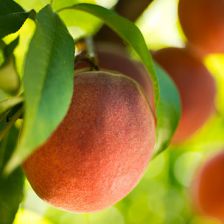 "Titan Farms is committed to assuring its customers their peaches and other produce have been grown and handled according to the highest possible standards in the marketplace."

Chalmers Carr, Owner and CEO of Titan Farms