Subarashii Kudamono, COOPERSBURG, PA
Wonderful Fruit
About Subarashii Kudamono
Subarashii Kudamono, is a gourmet grower of Asian Pears in Eastern Pennsylvania, a little over an hour West of Manhattan. They specialize in their own patented varieties of Asian Pears which they have been hand-cultivating over the last 30 years. In fact several of their varieties are only available from their Pennsylvania orchards, making them a truly locally grown fruit!
They manage our orchard in much the same way an estate vineyard is run (heirloom planting to maximize sun penetration, dropping fruit so that the best pears attain maturity, and much of their tree husbandry is completed by hand including pruning, thinning, picking, etc). In the Fall months, customers enjoy Subarashii Kudamono's many varieties of fresh Asian Pears when they order via Baldor: as a healthy, decadent snack in their hotel room or in a creative dish by a top chef.
Subarashii Kudamono's owners, believe Asian Pears to be "the" most wonderful fruit. Hence the name Subarashii Kudamono, which means "wonderful fruit" in Japanese. Many years ago, while traveling in Japan, they were given an Asian Pear by a friend; they thought this treasured fruit to be the most wonderful thing they had ever tasted. Inspired, they set out to become the best grower of Asian Pears in the world. This vision started with one tree in their backyard in Coopersburg, PA and soon flourished into an acre of trees, and then several acres, and soon evolving into several farms in PA - each with many, many acres of Asian Pear trees. The vision that these orchards represented was named 'Subarashii Kudamono' after that moment of inspiration given to them via that first taste of Asian Pear. Subarashii Kudamono continues to this day to produce premium Asian Pears and enjoys introducing customers to its array of Asian Pear varieties.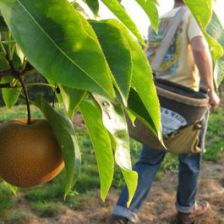 We only grow Asian Pears; other farms are diverse in their offerings - growing or producing several different items (apples, corn, wheat, dairy etc). Because we are so passionate about Asian Pears we devote ourselves in the production of the best tasting and best looking Asian Pears you'll ever enjoy. We create an experience when you bite into one of our fresh Asian Pears. Many think of our fruit as "d'objects d'Art".

Subarashii Kudamono
In Season Now
From Subarashii Kudamono
EXPLORE THE WORLD OF BALDOR