Spare Tonic, Dobbs Ferry, NY
More ways to use more
About Spare Tonic
More than one-third of all food produced is wasted. Reducing food waste is the No. 1 way to reverse the effects of climate change. That is the impetus behind New York-based The Spare Food Co., an innovative new company at the forefront of a new food movement called Upcycling.

Using the innovative culinary skills of co-founder Chef Adam Kaye (former Culinary Director at Blue Hill at Stone Barns), and the socially- conscious business experience of his brother, Jeremy (Patagonia, Nike) Spare Food's mission is to fix the broken food system and find more ways to use more of what's already grown and produced, taking overlooked and unused ingredients and crafting them into delicious, craveable foods and beverages that are better for people and the planet.

The company launched their first product in April 2021. Spare Tonic is a chef-crafted sparkling elixir made from the excess whey that results from the production of Greek-style yogurt. Whey is naturally rich in probiotics, nutrients, electrolytes and protein.

For every one cup of strained yogurt produced, two or more cups of whey are created, providing Spare Food oceans of this nutritious and delicious ingredient to craft into Spare Tonic. Seventy percent of all strained yogurt sold in the US is produced in NY State, creating an estimated one billion pounds of whey annually. Before this whey can be discarded into the waste stream, its natural acidity must be neutralized. If this does not happen, it damages the surrounding ecosystems by acidifying groundwater resulting in lower crop yields, and depletes oxygen levels in waterways, destroying aquatic life.

The Spare Food Co. partners with local yogurt manufacturers to purchase the whey that now goes into every can of Spare Tonic. They have also partnered with Brooklyn Brewery to produce Spare Tonic in Brooklyn, making this a truly local New York beverage.

Every can of Spare Tonic is made with only four ingredients: whey, fruit and spices, and a touch of local New York honey. It is rich in probiotics, electrolytes and an excellent source of calcium as well as vitamins B-12 and B-6. Each can of Spare Tonic also contains 6-7 grams of protein naturally derived from the whey. All of this makes Spare Tonic a truly innovative new entrant into the functional beverage category with an unparalleled nutritional profile and unique sustainability story.

Future Spare products are on the horizon, taking other "lost" ingredients such as surplus produce, overlooked parts of plants purchased directly from farms, and other edible ingredients produced as a co-product or by- product from other food manufacturing processes and transform these ingredients into delicious value-added products and dishes for diners, specialty food purveyors, foodservice, hospitality and restaurant partners.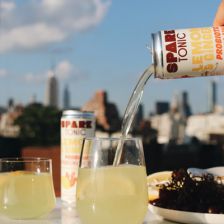 We intentionally talk about "wasted food", not "food waste". The simple change in the words we use reframes the issue and opens up a whole world of exciting overlooked ingredient opportunities that become available to create new foods that are both better for people and the planet.

Chef Adam Kaye (Co-founder)