SparCs, Bronx, NY
Rethinking Food Waste
About SparCs
SparCs is Baldor's creative approach to finding opportunities to put to use all its leftover food products from its Fresh Cuts production https://www.baldorfood.com/urbanroots. Our solution has helped highlight the need for all companies to come up with solutions to combat America's food waste crisis. Sounds like a tall order, right? It definitely is. Each year, the U.S. wastes up to 40% of its food supply through a combination of production losses, retail waste and, finally, consumer waste. We believe that positive change can only come from within our industry. So we're committed to eliminating organic waste from our Fresh Cuts production and eventually from all our facilities to inspire others. In 2016, we created a solution to reach zero organics to landfill from our Fresh Cut's production.
SparCs takes a three tiered approach to reduce waste at every juncture of our business cycle. First and foremost, we want to ensure that 100% of the edible product in our warehouse gets eaten by a person or an animal. Sounds reasonable, right? In order to accomplish this goal, we are working with a number of chefs to put SparCs to work in sauces, cookies, broths, etc. We are also partnered with a number of farmers who feed SaprCs to their pigs to substantially improve the quality of their animal feed. We're also preparing to launch our first ever SparCs based retail/foodservice product! The SparCs Veggie Blend transforms trimmings from our Fresh Cuts processing facility into a nutrient-dense powder for soups, smoothies, baked goods and more. Stay tuned as this product will be available for sale in 2017.
To make our facility a zero food waste to landfill company, we use a BioHiTech waste-to-water system for any food product that are unfit for animal consumption to be processed on-site.
Over the past year, we've seen major results from SparCs: our fresh cuts facility has become a 100% organics to landfill diverted and we have made major strides to reduce other waste streams including cardboard, pallets and plastics. It is just the beginning. We're amazed by the creativity and innovation happening in this space right now. Stay tuned for more news and reach out to learn more about ways to reduce waste in your own business!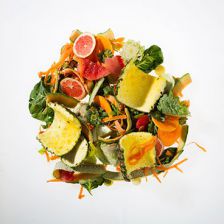 "The SparCs initiative provides an opportunity to have a broader discussion about all of the management of waste. At Baldor we looked at every aspect of our waste generation to see if we can reduce, recover, repurpose and recycle whenever possible."

Thomas McQuillan, Director of Sustainability
EXPLORE THE WORLD OF BALDOR