Sach, Oakland, CA
Sach Foods is a mission driven company making artisanal paneer that's humane certified and delicious.
About Sach
Jasleen and Tarush Agarwal founded Sach Foods in 2019, inspired and motivated by their rich cultural heritage as first-generation Indian immigrants.

Pioneering an essential new protein category, Sach, which means 'honest' in Hindi, champions the versatile, wholesome, and delicious qualities of paneer, and exemplifies Tarush and Jasleen's commitment to beautifully crafted food that is healthy for both humans and the planet.

After immigrating to the U.S., Tarush and Jasleen — lifelong vegetarians — were consistently disheartened by the lack of good tasting, high-protein, and low-carbohydrate meatless options in local stores.

In response, Jasleen began making weekly batches of her delicious, fresh paneer in their tiny San Francisco apartment — using only the highest-quality ingredients, and experimenting with original flavor combinations.

Recognizing a clear gap in the market for natural, vegetarian foods that are ethical and nutritious, Jasleen and Tarush introduced Sach Foods to their Northern California community. Response and demand was overwhelming, propelling Sach Foods to impressive growth as the only brand of small-batch, artisanal paneer available in the US — reimagining the everyday American kitchen.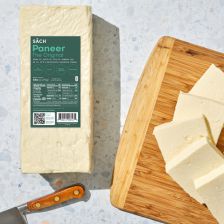 Sach paneer is the taste of home I've been missing. There's no substitute for my mom's cooking, but at least I've found the perfect paneer.

Rachel Gurjar -- Bon Appetit
EXPLORE THE WORLD OF BALDOR