Prosciutto di Parma, Parma Italy
Make every menu item crown worthy.
About Prosciutto di Parma
Prosciutto di Parma has been produced for more than 2,000 years in Parma, Italy. PDO (Protected Designation of Origin) means the production of every leg of Prosciutto di Parma is regulated to certify preparation using traditional methods in a specific geographic region. Prosciutto di Parma cannot be made anywhere else in the world. The Parma Crown branded on every ham guarantees authenticity, superior quality, and premium taste.
The surrounding hillsides of Parma provide the perfect microclimate for the natural aging of prosciutto. The mild Marino winds that blow through the Apennine mountains impart a delicate flavor unique to the region. Made from the hind legs of Italian-bred pigs, its unique savory-sweet flavor is a result of minimal ingredients and long, slow aging (a minimum of 400 days). In fact, Prosciutto di Parma is cured only with pure sea salt and contains no added nitrites or nitrates. This simple product boasts complex flavors that provide versatility for any meal or occasion. The traditional salting by hand, larger legs, and longer aging all allow for the natural sweetness of the pork to shine. Gourmands may also notice a nuttiness from the whey fed to pigs from the area's cheese production.
With its rich umami and melt-in-your-mouth, buttery texture, this ham has been revered the world over for its taste and diversity at the table. Here in America, the draw of Prosciutto di Parma is no secret among restauranteurs and deli operators.

Prosciutto di Parma is often enjoyed on its own, or as part of a charcuterie board. It is also at home with simple pairings with cheeses and fruits, draped atop a pizza, added to a sandwich or pasta, or lightly crisped to add finishing flavor and texture to a variety of dishes.
Prosciutto di Parma brings pricing power to your menu through its unique flavor and distinctive provenance.

The draw of Prosciutto di Parma is no secret among restauranteurs and menu creators. Recent research shows that calling out Prosciutto di Parma by provenance has driven significant pricing influence.
A +$1.00 (7%-8%) in pricing for Prosciutto di Parma over generic prosciutto for both breakfast and lunch menus.
A +$4.00 (44%) premium for Prosciutto di Parma over generic prosciutto among Quick Service and Fast Casual dining menus.
In fact, consumers repeatedly demonstrate an eagerness to pay more for Prosciutto di Parma over generic prosciutto on items across the menu, including:
+$5.00 for pasta
+$2.55 for cold sandwiches
+$5.50 for combo proteins
+$2.00 for salads
+$2.00 for other appetizers
Boasting the Parma provenance, paired with the leg's aging period, is sure to add menu appeal and interest. Time and again, consumers see value in, have a preference toward, and will pay higher prices for certain menu items featuring the Prosciutto di Parma brand over generic prosciutto.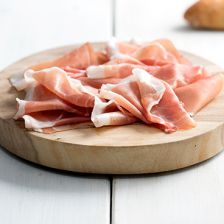 "There are lots of different cured hams in the world, but only prosciutto Di parma has the legacy of Italian quality that we strive for at Charlie Bird. It is simply an ingredient we cannot live without."

Chef Ryan Hardy