Pilot Kombucha, Brooklyn, NY
Kombucha that will fly off your shelf.
About Pilot Kombucha
As a former chef and major foodie, our founder Alex knows that you don't want to sacrifice indulgences in order to feel healthy & energized. She started brewing kombucha to aid her digestion after decadent meals & nights out partying. After converting her staunchly anti-kombucha head chef, she knew she could win over the rest of the city. Pilot Kombucha was launched in March 2015 with one goal: to bring gut health to the hedonistic food lovers of New York City. We know first hand that food lovers are all about the best: from decadent treats & late night slices to creative cocktails & craft beers and we are setting a new standard for delicious in kombucha. We are named for a long history of aviation in Alex's family —but we are also champions of flight. Pushing the boundaries of preconception. Challenging the norms and allowing change and experience to continuously reinvent the now. As brewers of artisan kombucha, we know that those brave enough to push past surface appearances discover incredible, nourishing things. We are obsessed with discovering the best flavors and the most nourishing cultures. We will go to the ends of the earth to find new combinations, new brews, & new processes that better nourish your grind. Pilot Kombucha is here to keep you feeling good, no matter what.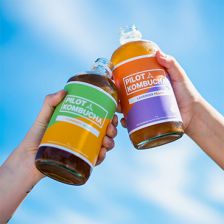 "People who are out drinking and partying and eating all these amazing foods, they're the people who really need kombucha, not the healthy yoga nut."

Alex Ingalls
In Season Now
From Pilot Kombucha
EXPLORE THE WORLD OF BALDOR