Martha's Vineyard Mycological, Chilmark, MA
Dedicated to the outdoor cultivation of shiitakes on whole oak logs.
About Martha's Vineyard Mycological
Inspired by the climate and forests of coastal New England, MV Mycological has adapted the ancient Japanese technique of outdoor shiitake cultivation on whole oak logs for the modern food system. These Wild Harvest Shiitakes are exposed to the elements, growing slow and dense just like they would in the East Asian oak forests where they evolved. They hold very little water, do not shrivel when cooked, and sear like meat. Wild Harvest Shiitakes glean their intense, garlicky umami from the complex carbohydrates in the wood they digest. This mushroom is the star of the plate, seared or raw. It's a different mushroom experience than any you have had before.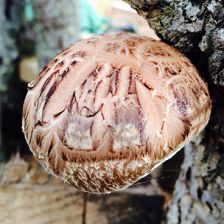 "MVM are growing the most beautiful shiitakes I've ever seen: Hana-style, grown on oak, they are dark beautiful caps, full of flavor and amazing soft yet dense texture. Currently we are using them in four dishes at O Ya Boston."

Exec Chef Nathan Gould