Locust Grove, Milton, NY
Fruit Farm
About Locust Grove
County Farms CEO and founder, Al Greenwood, was born and raised in rural Western New York. His summer jobs growing up, working for a local farmer at his roadside produce stand and in the fields, turned into a passion for agriculture. He pursued this career interest at Purdue University's College of Agriculture, where he learned more about agribusiness and running a farm. Upon graduation he started small by purchasing 20 acres of muck land in Clay, NY. Once his onion crop was perfected, Al expanded to the now 600 acres County currently operates. His 20 employees are like a tight-knit family, many of whom Al considers close friends. Al's son and daughter are now getting involved in the business; they both have taken an interest in expanding County Farms to include a greenhouse operation.
County Farms' soil is soft and loose which allows for deeper root growth. This, and the fact that muck land is very nutrient-rich, makes us known for our root crops. Customers especially request our onions in particular. We grow the Empire-Sweet variety - the name says it all.
I see customers continuing to appreciate and demand traceability in the future. With increasing awareness of food safety, it remains a top priority for our operation. We will aspire to be at the front of these trends with our labeling and record keeping processes so that our vegetables can be traced to the field. We pride ourselves in staying current in our safety certifications, and educate our employees on the importance of these issues.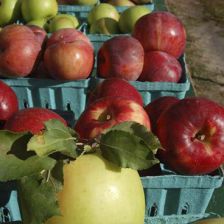 "Besides being a certified organic farm, we take steps to use sustainable systems in our farming practices, particularly with soil conservation. Methods we implement to protect the productivity of the soil include utilization of cover crops, composting practices, and tillage reduction.

We pride ourselves in our community involvement. We collaborate with local schools to run an Outdoor Summer Program to provide children with a fun, educational experience at a real working farm".

Locust Grove Team