Czajkowski Farms, Hadley, MA
Old time farmer with solid community values.
About Czajkowski Farms
This third generation farm in Hadley, Massachusetts operates on 300 acres, a hundred of which are organic. Farmer Joe Czajkowski and his workers provide fresh, delicious organic and conventional fruits and vegetables to area schools, institutions, hospitals and his own neighbors through his farmstand. A few years ago Baldor was added to his esteemed customer list.
Czajkowski Farm was originally founded in 1914 by Joe's grandfather, John Czajkowski, and carried on by Joe's parents John and Angie. In those days the farm grew tobacco, potatoes and cucumbers. Joe now specializes in fruits and organic vegetables.
Look for zucchini, yellow summer squash, peaches and cucumbers in early to mid -summer and peppers, carrots, parsnips, tomatoes, butternut squash later in the local season.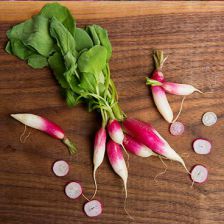 We love what we do.

Czajkowski Farms Team