Balakian Farms, Reedley, CA
They just do organic stone fruits "really, really well."
About Balakian Farms
Grandfather Zadig Balakian came to the U.S. from Armenia in 1925 and found his planting paradise in Reedley, CA. He'd been a vegetable farmer in his homeland and in central California he found the perfect conditions for cultivating an orchard as well as a vegetable farm. His son John and daughter-in-law Stella came on board and today their daughter Ginger is running the fruit orchard and the farm.
Balakian is a small certified organic farm covering about 85 acres. With their limited crew, they hand pick and hand pack all their fruits right there on the farm. Another farmer-friend in the area (and of great repute here in NYC), Martin Bournhonesque, discovered the Balakians at the Ferry Point Market in San Francisco. He was so wowed by the amazing quality of their fruits, he began distributing for the family.
Martin says there are lots of certified organic fruit growers in the state but the Balakian's do it "really, really well". They grow successive varieties of peaches and nectarines, each lasting only two or three weeks. This "revolving variety" style of cultivation enables Balakian Farm to offer tree-ripened fruits from late April through late August. According to farmer Martin, true tree-ripened is not soft-to-the-touch, but already full of the aromas and sugars to bring it to peak in 2 or 3 days after delivery. Early Balakian stone fruits tend to be on the small side – veritable little cherry bombs of flavor.
Balakian stone fruits are also among the earliest to come to market as they specialize in early ripening varieties. But their spectacular fruits get even better and bigger as summer stretches on.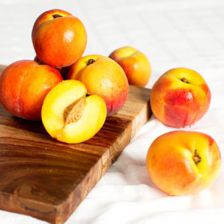 All riches come from the earth.

Armenian Proverb