Apples From New York, Victor, NY
Juicy, Flavorful, Fresh – New York Apples are grown by us, just for you.
About Apples From New York
New York is home to over 600 apple growers and 55,000 acres of delicious apples. Our rich glacial soils, warm summer days, cool fall nights, and abundant water resources allow us to grow apples with crispness and flavor unlike anywhere else in the world.
New York is the second largest apple-growing state in the country, and New York City's first choice for high-quality fruit. Our growers work to deliver traceable, quality-assured product from local regions. We are proud to be a source for fresh apples that reduce food miles from orchard to table.
In the orchard, our growers continually invest in innovation, using trellising, reflective cloth, and netting practices to improve yields with reduced inputs. Most newly planted orchards use high-density planting and contain as many as 2,200 trees to the acre. Hand-picked and stored in state-of-the-art controlled atmosphere rooms, our diverse family of apple varieties delivers unsurpassed color, texture, and flavor. New York grows an extensive mix of classic and modern varieties, meaning we have an apple for every customer.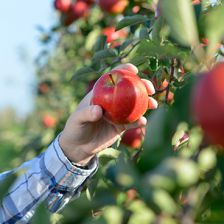 "We are proud to represent the apple growers of New York State, the second-largest apple-producing state in the country. Our growers grow a mix of classic and modern apple varieties that ensure that a local apple is available for every taste. We thank our buyers for supporting our family farms and reducing food miles from orchard to table."

Cailin Kowalewski