Meet King Grove Farms: The Blueberries Chef Dan Barber Loves
When Dan Barber, chef and co-owner of Blue Hill at Stone Barns in Pocantico Hills, NY and the Michelin-starred Family Meal at Blue Hill, calls us to tell us about a product we should consider carrying, obviously we hear him out. As an advocate for responsible agriculture, author of the groundbreaking book The Third Plate, and founder of Row 7 Seed Company, Chef Barber knows a thing or two about good produce.
A few months ago, he called to say, "You have to try these blueberries."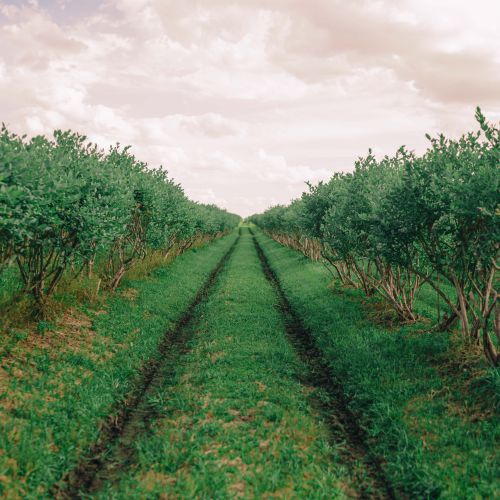 Those blues he was referring to were from a grower called King Grove Farms, a 200-acre farm located in rural Eustis, FL. since 1874.
Baldor Director of Merchandising Matt Rendine flew down to the farm a few weeks after getting the call and understood what Barber was so excited about the minute he put the berry in his mouth. "I was amazed at how firm and flavorful they were," he says. "The crunch was one I've never experienced before, and the balance of acidity to sugar was so special that I immediately wanted more."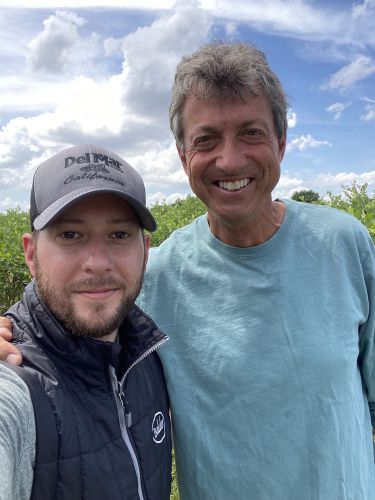 Matt's enthusiasm was matched by a sense of urgency: From Barber, and then from Hugh and Lisa Kent, the owners of King Grove, he learned that the farm's future was in jeopardy. If they didn't find a distribution channel, they'd be out of business. "When I learned about how Hugh and Lisa grow their blueberries, and then the situation of possibly not making it through to another season, I knew immediately we had to jump in and do something," says Matt.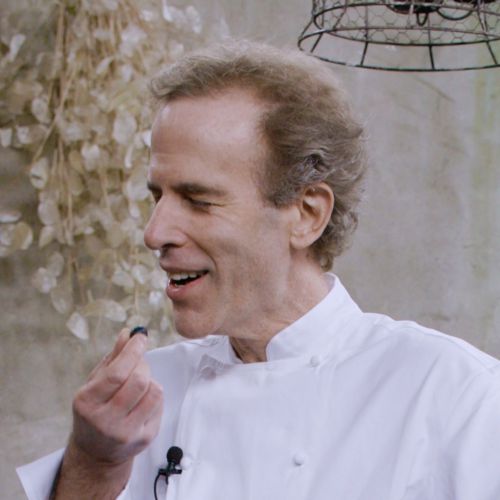 "Something really special"
To understand why we decided to get involved, you first have to know what makes these blueberries different.First and foremost, it's the flavor. And the way Barber describes his first taste is almost spiritual: "I hadn't tasted a blueberry like that in forever," he says. "It was one of those experiences that stays in your mind, because the integrity of the berry, the sweetness, the acidity, the length of time I was tasting it—this was like a wine. And you know that's something really special."
He notes that we've been conditioned to think of sweetness as quality for fruit, but really,it's the delicate interplay and balance of sugar and acid that makes the best eating berry.
The other unique feature of the King Grove berry is its skin integrity. It's firmer on the outside than other berries, and so it kind of pops in your mouth when you bite.
The unique flavor and mouthfeelof King Groveblueberries is owed in part to varietal and climate, naturally. "King Grove blueberries are produced by six different blueberry plant varieties that were each selected for taste above all else," says farmer Hugh Kent. They grow on a 200-acre farm in rural Lake County, FL, about an hour North of Orlando that has been reaping crops since 1874. Farmers Hugh and Lisa—she a former wildlife biologist, he from a family of farmers—see themselves as stewards of the land where they carefully tend blueberry bushes that grow along the contours of rolling hills and are surrounded by wildflowers, old growth woods, and protected wetlands. The spring climate of sunny, warm days and cool nights help deliver the photosynthesis the plants need.
But Hugh credits one thing more than any other when it comes to the flavor, and that's the soil. "King Grove blueberries are grown in carefully tended, healthy soil and are certified by the Real Organic Project," notes farmer Hugh Kent. Meanwhile, most other berries today are grown hydroponically or in plastic containers, which means they don't reap the flavor benefit from the microbial content and terroir.
"I'm an evangelist for good, rich soil, because we know that it leads to great flavors," says Barber. He explains that plants take in sunlight, and photosynthesie, then create sugars that travel from the leaf to the stalk to the root system, where the microbial community in the soil eagerly await them "like kids at a candy bar." These sugars are excreted in a way that rearranges the molecules and helps the soil become healthier which makes the plants even healthier. "If you feed the soil, the soil feeds the plant, the plant feeds the animals, and the animals feed the people," he says. "So, if you treat soil well, you create healthy soil, healthy plants, healthy people."
What we also loved about these berries is the freshness factor: "King Grove blueberries are picked, packed, and placed in cold storage within a matter of minutes—all right here on the farm," says Hugh. "Within just an hour or two of being picked, they are already cooled to 35F." They are then shipped to our facility overnight.
Because of the cold storage process, they also have a longer shelf life than other berries, with Hugh noting that they can remain fresh for several weeks in refrigeration.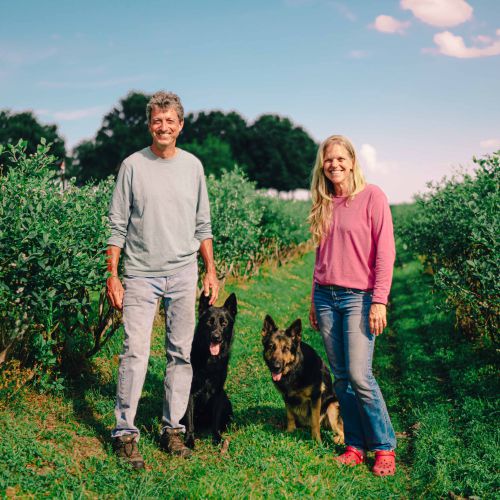 From Farm to

Chef

to Baldor
The story of how these berries ended up in our warehouse and on our website came out of a kind of last-ditch effort.
Hugh and Lisa Kent didn't know Chef Dan Barber personally, but they knew what he stood for, and, finding a kinship, in his beliefs about growing practices, they sent Barber a box of blues on a whim, which sat on his desk a few days before he put some in his mouth. When he finally did, Barber found himself rallying all of his kitchen staff to try some, too.
He called Hugh and the two found immediate rapport over their commitment to responsible growing. Barber invited Hugh to come to Stone Barns to present to his chefs, and while Hugh was there they all learned something devastating:"He told us he was going to go out of business. After 15 years of trying to make it work, he was going to give up."
Growing organically with a short season, and using healthy soil practices meant he had to charge more for his berries than other growers who did not, and he could not find a market or distribution for his products. That hit home for Barber: "This kind of farming is threatened, and if we don't protect this, if we don't support it, we won't have farmers like Hugh and Lisa and we won't have foods like these."
That's when he made the call to us. "The first call I made was to Baldor—you've consistently stood behind the right kind of farms and the right kind of farming. Chefs know and trust that the kinds of farms Baldor works with deliver quality."
And that's when Matt Rendine traveled to Florida, tasted the magic and mobilized--telling the Kents that Baldor would commit to the entire 2023 crop. "We have a social responsibility to protect and support domestic farmers who practice responsible growing techniques and who put flavor first," he says. "Hugh and Lisa's commitment to soil health, regenerative farming practices, and flavor is parallel with Baldor's mission, vision and values."
While the season is short, and nearly at its end, we're pleased to have introduced a better blue to our customers this spring, and at the same time "help save this farm," says Matt. We thank our customers for being willing to invest in better foods and better outcomes for better growers.